You can create a yummy vegan cake and swap out eggs for plant-based yogurt, applesauce and even bananas. It gets better. We now have access to a variety of alternatives to cow's milk. Oat, almond and soy milk are available in most cities. In the past few years, I have learned that dairy can cause lots of inflammation in my body. Inflammation hurts, so looking for ways to cook without dairy became a priority. I found new ways to make easy meals and enjoyed remixing recipes. But to be honest with you, I felt challenged when it came to baking. In order to take it to the next level for me, l would have to tackle my love of eggs and milk. There was just no getting around it.
Vegan Cake to the Rescue!
It is possible to achieve a moist cake without dairy. I know! It blows my mind every time I say it. Spending time in the food space has meant meeting lots of new friends. These new plant forward friends have shown me the way. It also helps that I spend an insane amount of time watching videos! I'm happy to share my version of vegan pina colada cake with you. I'm hoping that this vegan cake lights up your holiday or any time during the year.
Vegan Pina Colada Cake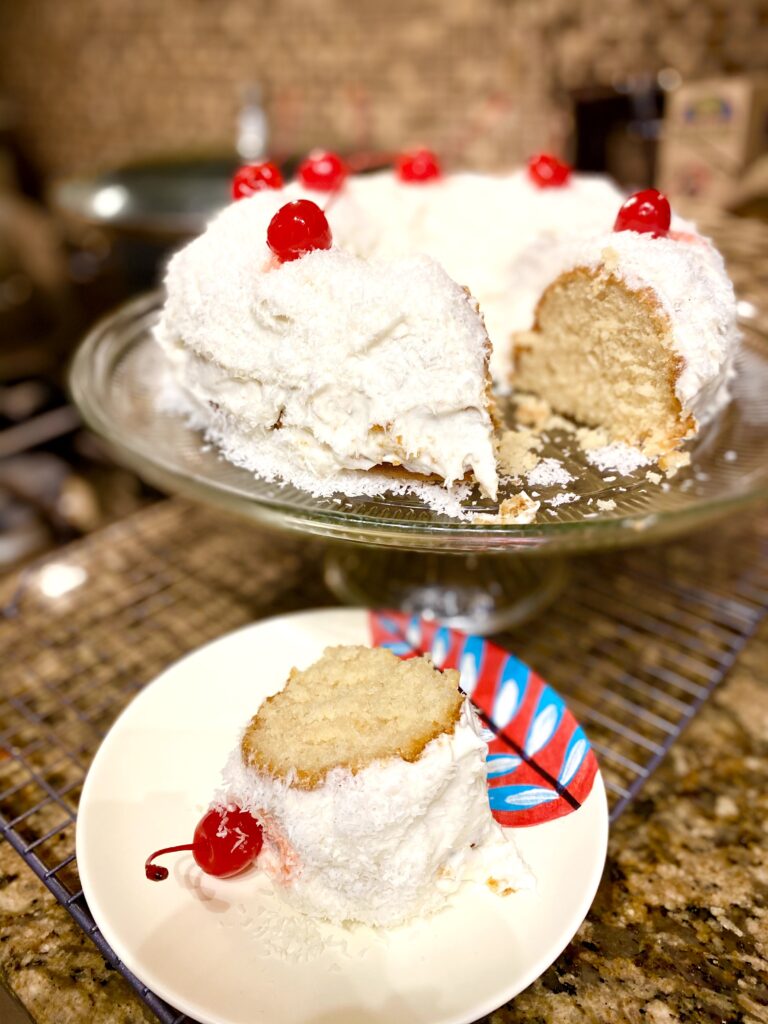 Impress friends and bring a little vacation to the table when you make this cake that calls for a generous amount of coconut rum. I use organic ingredients as often as possible but it's not a deal breaker.
Ingredients:
2 1/4 cups of flour
3 1/2 tsp baking powder
1 cup of cane sugar
1 tsp of salt
6 oz of plain plant-based yogurt
1 cup of pineapple juice
4 tbs plant based butter (softened)
2 tbs of coconut oil
4oz coconut rum (original or dark rum should work )
Cooking Spray and Flour to Coat Cake Pans
Frosting & Decoration:
16 oz of vanilla frosting
2 oz coconut rum
2 cups shredded coconut
1-3 maraschino cherries (optional)
The Process
Add all ingredients to a large bowl adding one ingredient at a time and blend until everything is smooth.
Pour the batter into the pans (I used a Bundt pan) and bake on the center rack for 40 minutes or until you test it by inserting a toothpick or butter knife into the center and it comes out clean. Pour 1 oz of coconut rum onto each cake layer. Cool the cakes completely before frosting.
Frosting Preparation:
Scoop the frosting out of the container (or make your own) and into a medium bowl. Add 2 oz of coconut rum and whip for 60 seconds with your hand mixer.
Finishing Touches
If using 2 layers, frost the first layer of the cake, finish off with coconut flakes and repeat for the top layer. Ensure that the entire cake is covered with coconut. Add 1-3 maraschino cherries to the top.
LA Dunn is a plant-based advocate who believes in the power of positive thought. If you have twenty minutes, check out an episode of The Black Girls Eat Podcast. If you are plant curious, download 15 Mistakes to Avoid When Going Plant Based. And of course, sign up below so you can get all of the updates.