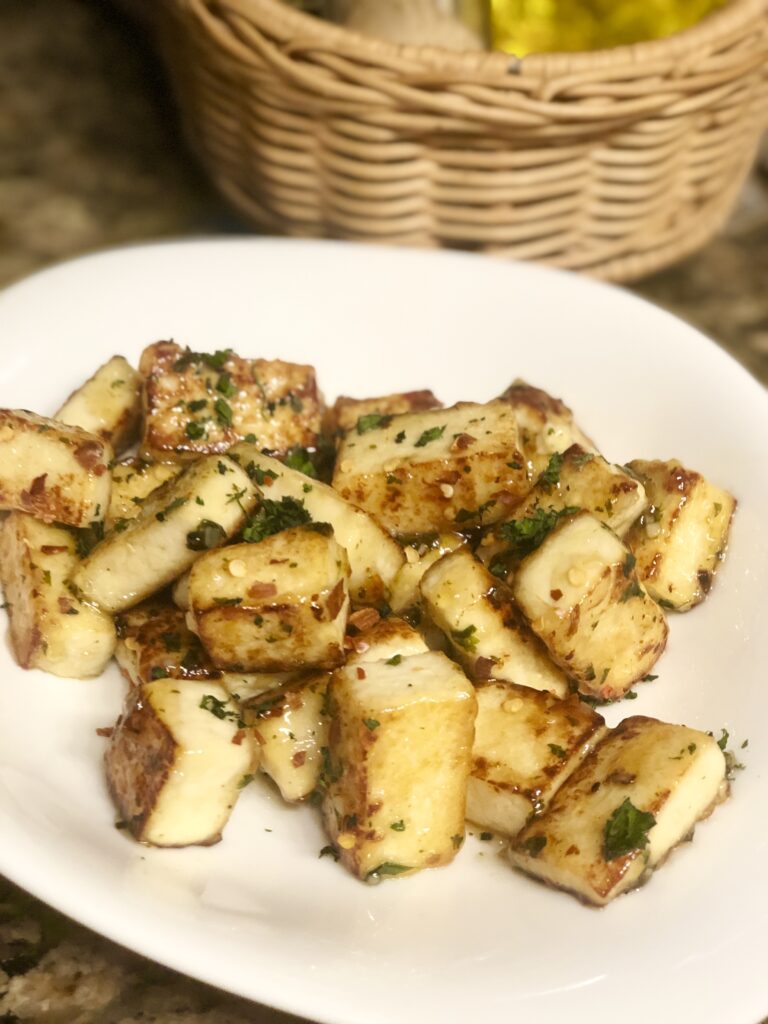 I decided to stop being afraid and made my own version of spicy honey garlic cubes. I love honey and spice so this was the perfect addition to my list of plant based meals. The truth is, I'd only been in contact with tofu in the bowls of miso soup I've enjoyed. However, leaning into plant based nutrition definitely gives you an opportunity to increase your food vocabulary. For years, I walked past the tofu section in the grocery store and never even thought about adding it to my shopping cart. It just seemed like one of those random foods that was totally off my radar. Therefore, I knew it was time for me to figure out what it was and how to use it. I wanted to know why it's a good choice for people who want protein but want to eat less meat.
What Did I Learn?
Tofu is made with soy milk and is considered a nutrient dense food: high in protein and other great nutrients like calcium, selenium and iron. I also learned that it's quite controversial as some are huge fans of soy and some are not. If you are allergic to soy or you have concerns about hormones, then this might not be the recipe for you.
Three Varieties of Tofu
I found tofu in three varieties and bought an organic brand. There was soft, firm and extra firm. I used extra firm for this recipe because I wanted it to have a "meaty" bite to it. Buying tofu turned out to be easier than I thought and I was surprised at just how inexpensive it is. I had heard that it will taste like whatever seasoning, sauce or marinade you use and it's true. The sticky sauce was just perfect for a tasty bite that was all at once sweet and hot.
INGREDIENTS
1 Package of Extra Firm Tofu
1 Tbs of Oil or Cooking Spray
2 Tbs Cornstarch + 1 Tsp
3 Tbs Honey
1 Tbs Minced Garlic or Garlic Powder
1 Tbs Red Pepper Flakes
1/4 Cup of Cilantro
DIRECTIONS
Remove the Tofu from the packaging and wrap in paper towels. It will be very wet and your goal is to dry it out. You can use several paper towels or let it sit out and air dry for an hour. The drier the tofu, the crispier it will be. Slice the Tofu into 24 cubes and toss with 2 Tbs of Cornstarch.
Add oil to the pan and heat.
While waiting for the pan to heat up, add Honey, Garlic, Red Pepper Flakes, Cilantro and 1 Tsp of Cornstarch to a bowl and set aside. When the pan is hot, add the Tofu and brown on all sides. Pour the honey mixture into the pan and ensure all the pieces are coated. The sauce will get thick and sticky.
Remove from the pan and add an extra drizzle of Honey and more Red Pepper Flakes if you really like spice.
Calories are an estimate. Please eat responsibly, verify nutritional information and consult with your doctor.
Thanks to the team at www.verywellfit.com for the use of their Recipe Nutrition Calculator
LA Dunn is a plant based advocate and she still cries at the end of the movie Love Jones.
Interested in receiving ready made plant based meals? Use my discount code at Splendid Spoon for $25 off your first order of Breakfast + Lunch or Breakfast + Lunch + Reset Plans.
If you have twenty minutes, listen to an episode of The Black Girls Eat Podcast and sign up below for updates, Recipes & Random-ish.