Jump to recipe
I fell in love with Kohlrabi when I discovered it inside of one of my weekly CSA pick ups. This was back when we were shopping mask free. I have shared in the past that a Community Supported Agriculture program is a great way to eat locally and to expand your plant based vocabulary. Each week provided produce that would support my goal of leaning into plant-based nutrition. Wondering what it tastes like? Kohlrabi tastes like an apple and a cabbage got married. Crunchy and not too sweet, it quickly became a favorite.
Kholrabi is the Star of the Garden
Planting a garden was never a part of my plan for a plant-based lifestyle. My idea of going green meant shopping for organic foods and maybe starting a small compost bin. The team at the Stone Barnes Center for Food and Agriculture invited me to start a garden. I said yes and there was no turning back. Which leads me back to the Kohlrabi. We were provided with composts and a variety of plants and seeds. Oh you can just imagine how excited I was about the collard greens, the mustard greens, the carrots and onions. I was super hyped about the Kohlrabi. I cannot believe that in just a few weeks, I will be able to eat my own veggies grown in my very own backyard.
Available all year long, Kohlrabi comes in green, white and purple and it actually translates to "cabbage turnip" in German. It's a perfect ingredient for any kind of slaw and similar to other veggies, you can eat all of it. The stems cook down the same as you would with Kale or Beets. Kohlrabi is high in calcium and potassium. And added bonus? Fiber. This veggie gives you almost all you need in a day in just one cup.
Easy Kohlrabi with Apple and Kale Salad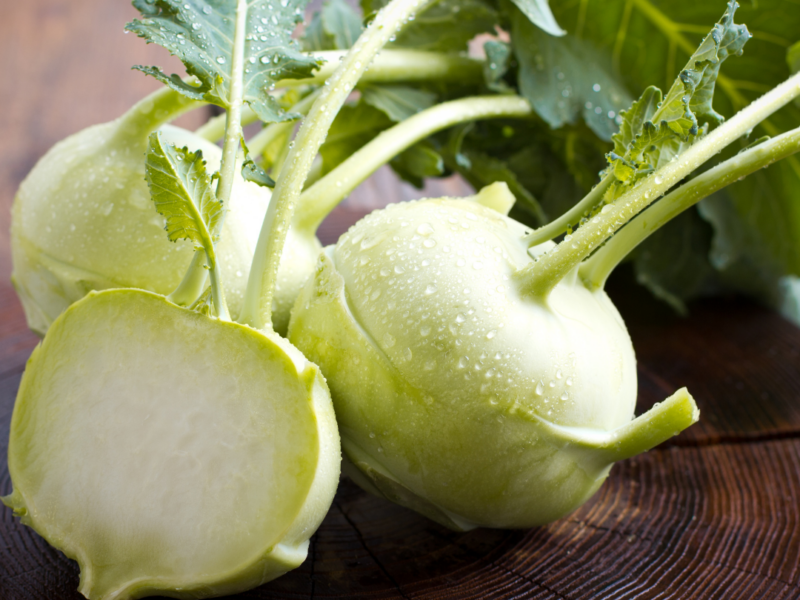 Ingredients
1 Bunch of Kale removed from stems and chopped
1 medium sized kohlrabi peeled and sliced or cubed
1 medium sized apple peeled and sliced or cubed
Dressing
1/4 cup apple cider vinegar
1/4 cup extra virgin olive oil
3 Tsp Honey
1 tsp minced garlic
dash of salt/pepper
Instructions
Place your kale, kohlrabi and apple in a large bowl. In a separate small bowl, mix apple cider vinegar, olive oil, honey, garlic and salt/pepper together. When ready pour over your salad and stir to make sure that the veggies are completely coated with dressing. Enjoy!