Jump to recipe
Roasted potato salad was born out of my desire to switch up an old classic. Hands down one of our fave summer salads. Okay so when the temps go up outside, no one wants to turn on the oven. Except me. I love to get up before sun starts blazing in order to roast my veggies.
It happened innocently enough. One night, we had roasted potatoes for dinner. A few days later, I noticed that there were a lot of potatoes left over. I really didn't want to just reheat them and serve them again. I asked hubby if he had any ideas. We both agreed to use the roasted potatoes with our classic recipe.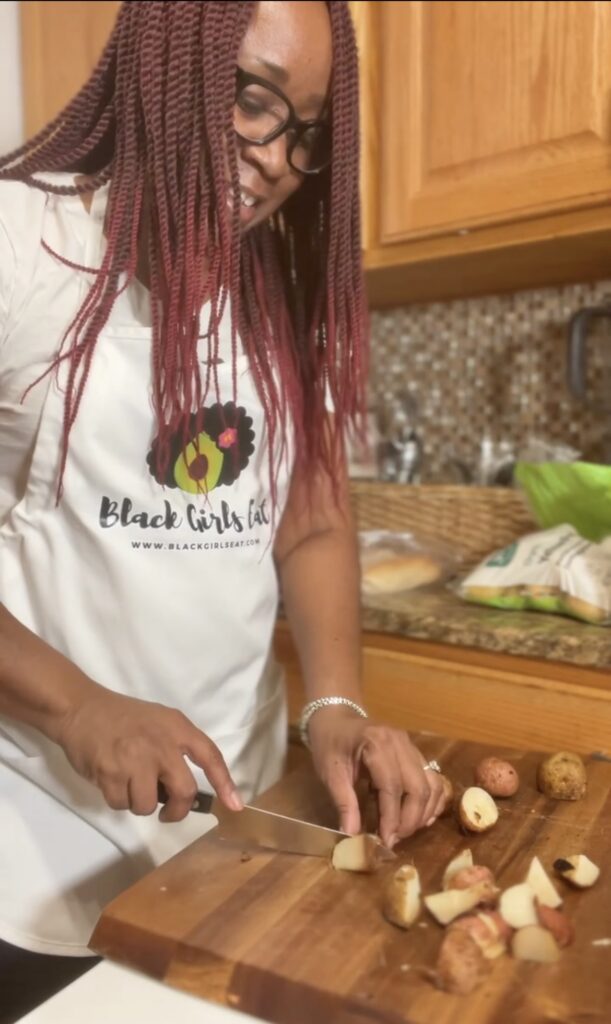 Roasted Potatoes Are the Star
My family is from the south. I have spent years around the potato salad debate. Who makes it better?Don't get me to lying! One of the main challenges I always have with potato salad is when the potatoes are soggy. Yep. I like firm potatoes in my salad. No one wants mushy potato salad!
My recently roasted potatoes were Yukon Gold and perfect for our experiment. They showed up firm and tasty when mixed with the other ingredients. I seasoned the potatoes before they went in the oven. Then, I added more seasonings to the actual roasted potato salad for even more flavor.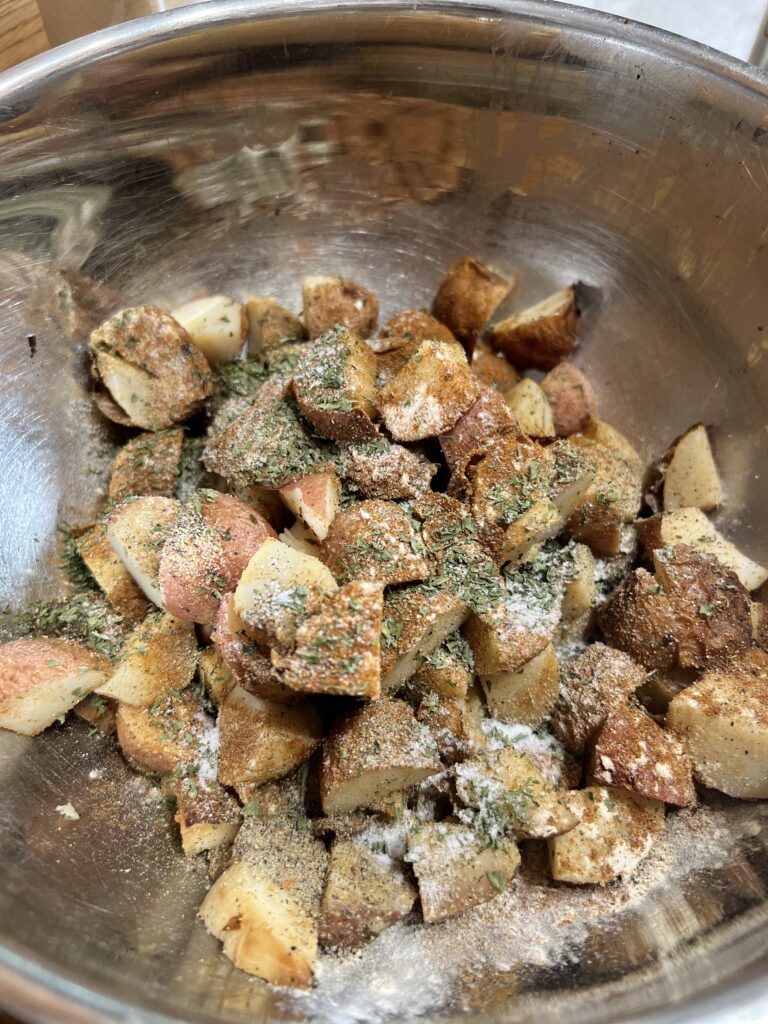 Just like the traditional version that we make, this recipe calls for mayo and hard boiled eggs. If you want to veganize it, go ahead. Skip the eggs, use a plant-based mayo and enjoy!
Verdict Is In!
My family loved the remixed version of potato salad. We appreciated the savory flavors, the creaminess and the chunky style in general. Don't feel stressed. Roasted potato salad doesn't make you work harder. Instead of boiling the potatoes as a first step, you will simply roast them. What's cool is that you can roast potatoes for one meal and make a salad with them for the next. Just like we did!
More Roasted Potato Salads From Around the Web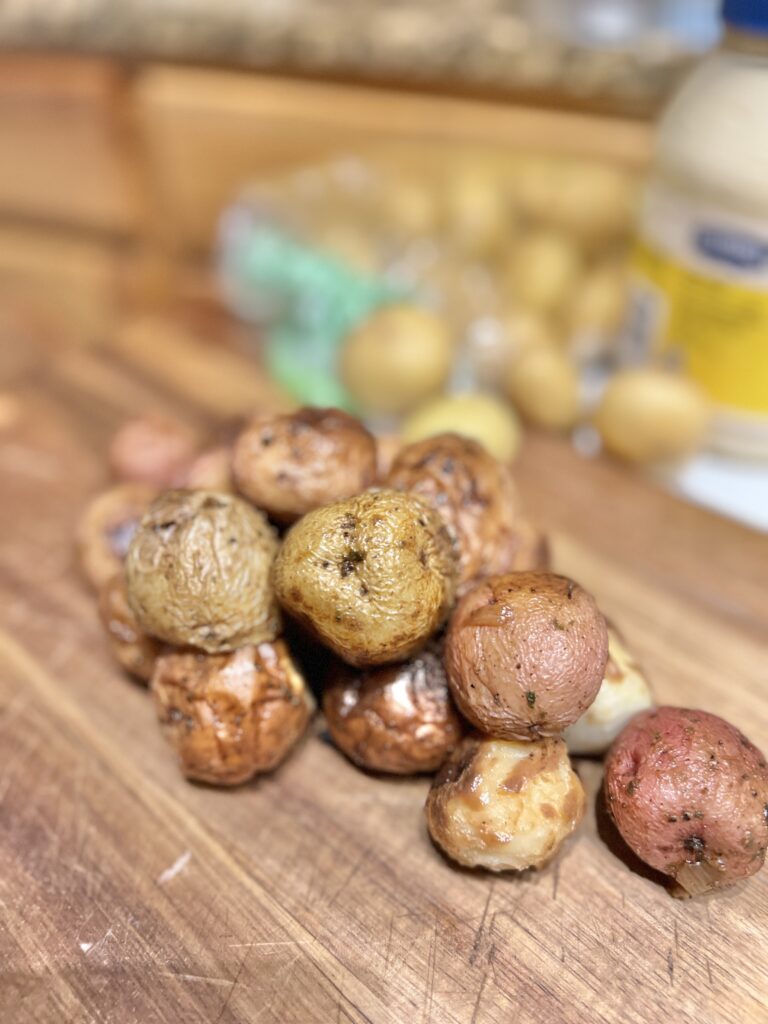 LA Dunn is a plant-based advocate from the Bronx. She loves to remix her plate and enjoys finding new ways to love old recipes. Feeling like you need a change? Take the easy 5 day email class: Introduction to Plant-Based Nutrition. While you are here, take a look at the Black Girls Eat Online Shop and sign up below to stay connected. Thank you for being here!
Roasted Potato Salad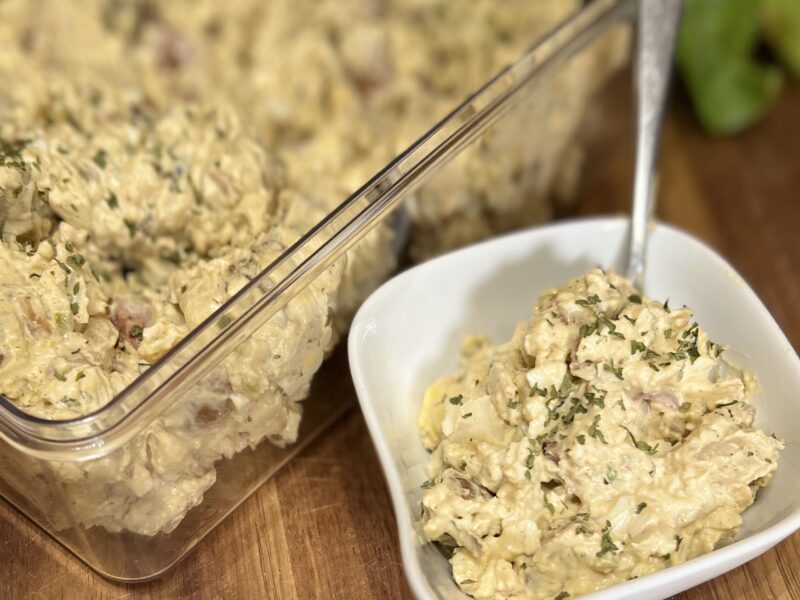 Ingredients
1.5 lb Yellow or Yukon Gold New Potatoes
6 Eggs
1/2 Cup Mayo
2 tsp salt
2 tsp pepper
2 tsp garlic powder
2 tsp onion powder
2 tsp paprika
2 tsp dijon mustard
1 tbs dried parsley
1 tbs olive oil
Instructions
Pre-heat your oven to 450. Place potatoes evenly on a cookie sheet. Drizzle olive oil and add 1 tsp salt, pepper, garlic powder, onion powder and paprika. Using plastic gloves, massage the seasonings into the potatoes. Roast for 30 minutes or until tender.
Let potatoes cool and slice into thick cubes. Place potatoes in a bowl. Add remaining seasonings including the dijon mustard and dried parsley. Dice the eggs and add to the bowl. Add the mayo and mix well. Sprinkle more parsley as garnish.
Vegan? Skip the eggs and mayo. Try a plant-based mayo instead.