Falafel is Fun to Make and Fun to Say
My new Bae dish is falafel. I never imagined that it would be so easy to make. It is even more fun to say. Try saying it 3x fast. Add this recipe to your list and impress everyone. If you can make a patty or a meatball, you can make falafel. I live in NYC and I have been surrounded by falafel my whole life. There are food trucks and restaurants everywhere featuring this tasty treat. Made with chickpeas and a variety of seasonings, I was happy to finally make this high protein dish that definitely did not make me miss having meat on my plate.
We Zoomed to Dubai
I have a group of girlfriends that I've known since the first year of college. Every year for the past 15 years or so, we take a trip together. We all vote on a city and make it happen. What's cool about the trip is that we build an itinerary after we select the city. We have gone to cooking classes in DC, NBA games in New Orleans and farmer's markets in Toronto.
Because we aren't able to travel right now, we decided that we would travel virtually to Dubai. We each had to prepare a dish and find an outfit. I knew right away that I would make falafel. First, because I have like 50 cans of chickpeas in the pantry. Second because I always wanted to do it. This virtual trip was the perfect opportunity.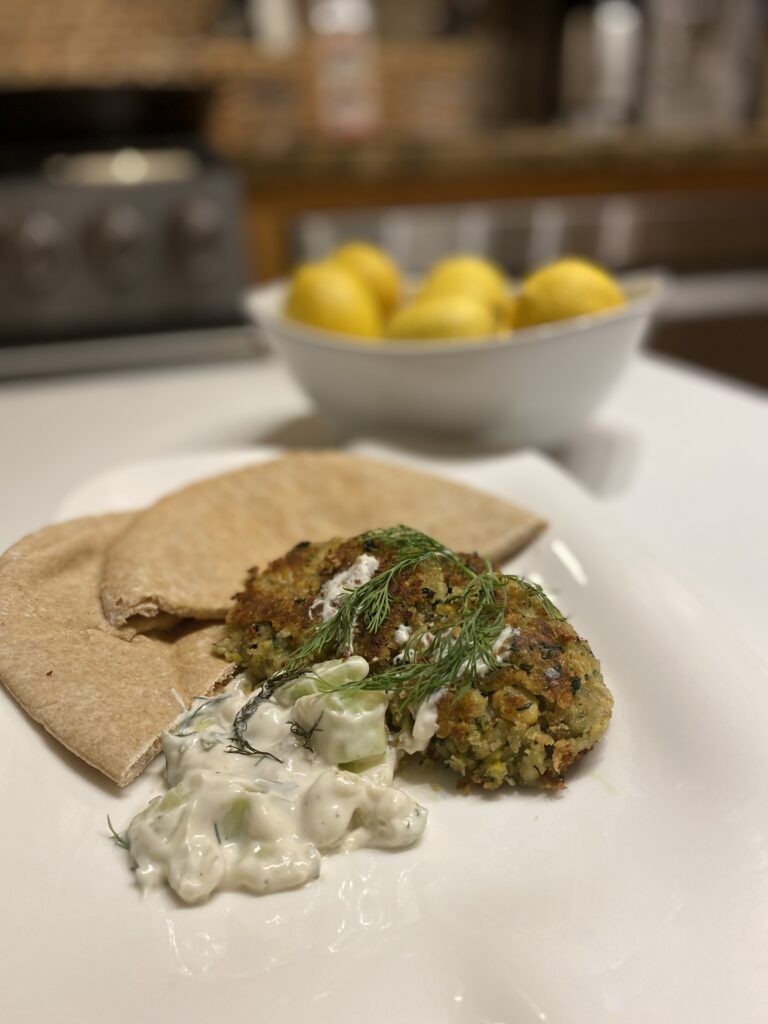 Ingredients for the Falafel
Chickpeas- 1 (15 ounce can)
Breadcrumbs- 1 cup
Parsley- 1/2 cup
Onion- 1 small and diced
Garlic- 2 tsp minced
Cumin- 2 tsp
1 tsp each: salt, lemon juice, baking powder
black pepper and cayenne pepper- just a pinch
1-2 tbs of olive oil
oil for frying
pita bread (to place your falafel in)
Ingredients for the Cucumber Dill Dressing
Cucumber- 1 peeled and diced
Plant-based Yogurt- 6 oz (no sugar added)
Dill- Dried or Fresh0 1-2 tsp
Salt/Pepper to taste
The Process
Heat your oil in your skillet. Add all of your falafel ingredients to a large bowl and mix. Use your hands to create small patties. Add a little more bread crumbs if you need to. Fry on both sides. Mix the cucumber, yogurt and seasonings in a small bowl. When you are ready to plate, you can add your dressing to the top of your falafel or serve it on the side. Enjoy!
LA Dunn is a plant-based advocate who also happens to be great at playing Spades. If you have 20 minutes, listen to the latest episode of the Black Girls Eat Podcast and hear more about the trip to Dubai. Don't forget to sign up below for news and updates.