Jump to recipe
Vegan sweet potato pie is not something that I thought I would ever make. When I first started eating more plants, I didn't focus on dessert. I'm just being honest. For me, making healthier food choices was about breakfast, lunch and dinner. I was not sure that I could make a move to vegan desserts. I could not imagine a sweet treat without milk or eggs.
Messing with Tradition
Sweet potato pie provides bragging rights in my family. It is one of those old school desserts that no one dares to mess with. My family recipe has a traditional approach. The ingredients include yams, eggs, butter, condensed milk, sugar, vanilla, cinnamon and nutmeg. I have had several different versions from orange flavored to coconut but the traditional still wins. The first time I made a vegan sweet potato pie for thanksgiving, I was nervous.
Vegan Sweet Potato or Yam?
Even when the sign in the produce section says yam, it is usually a sweet potato. I know it's confusing. It seems that most of what is sold in the United States is a sweet potato. The good news is that sweet potatoes are a great source of fiber, rich in antioxidants and vitamins. My recipe calls for Garnet Yams which I now understand are really rich deep orange colored sweet potatoes.
When I first made this pie, I didn't share it with anyone. I had to try it out first. Now that I've made it a couple of times, I'm happy to share the recipe. The coconut milk held up well and the spices brought in the traditional flavor that I was looking for. This is a great recipe for those who want to move away from dairy. It's also a great one to try when looking to impress your vegan friends.
LA Dunn is a plant-based advocate born and raised in The Boogie Down Bronx. While she never was a breakdancer, she loves hip-hop and may have said a rhyme or two in high school. If you have 20 minutes, listen to an episode of The Black Girls Eat Podcast. Sign up below to stay connected.
The Best Vegan Sweet Potato Pie Recipe for Beginners

Total Time
1 hour, 15 minutes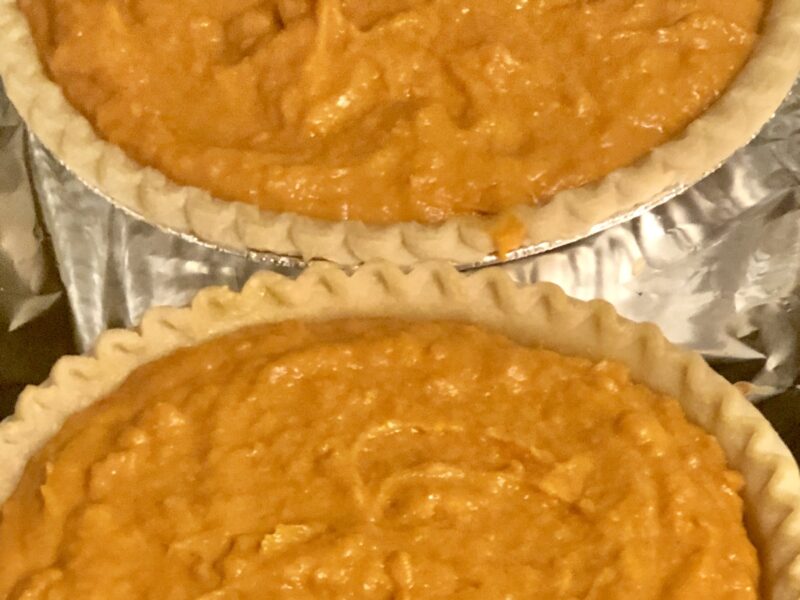 Ingredients
1 nine-inch ready made vegan pie crust (I like Wholly Wholesome)
The Filling
3 Medium Sweet Potatoes (Boiled or Roasted)
3/4 Cup Coconut Cream
3 Tbs Cornstarch
3/4 Cup of Brown Sugar
2 Tsp Vanilla Extract
1 Tsp Cinnamon
1/2 Tsp Nutmeg
1/2 Tsp Salt
Instructions
Preheat your oven to 400. Prepare your sweet potatoes. Boiled or Roasted with skin removed.
Grab a large bowl. Add sweet potatoes, coconut cream, brown sugar, cornstarch and all of the spices. Blend well. Pour filling into pie crust. Cover your pie crust edges with foil or with a pie crust cover so that it doesn't burn while waiting for the filling to cook. Bake for 40-45 minutes. Let cool for an hour in the fridge.