Jump to recipe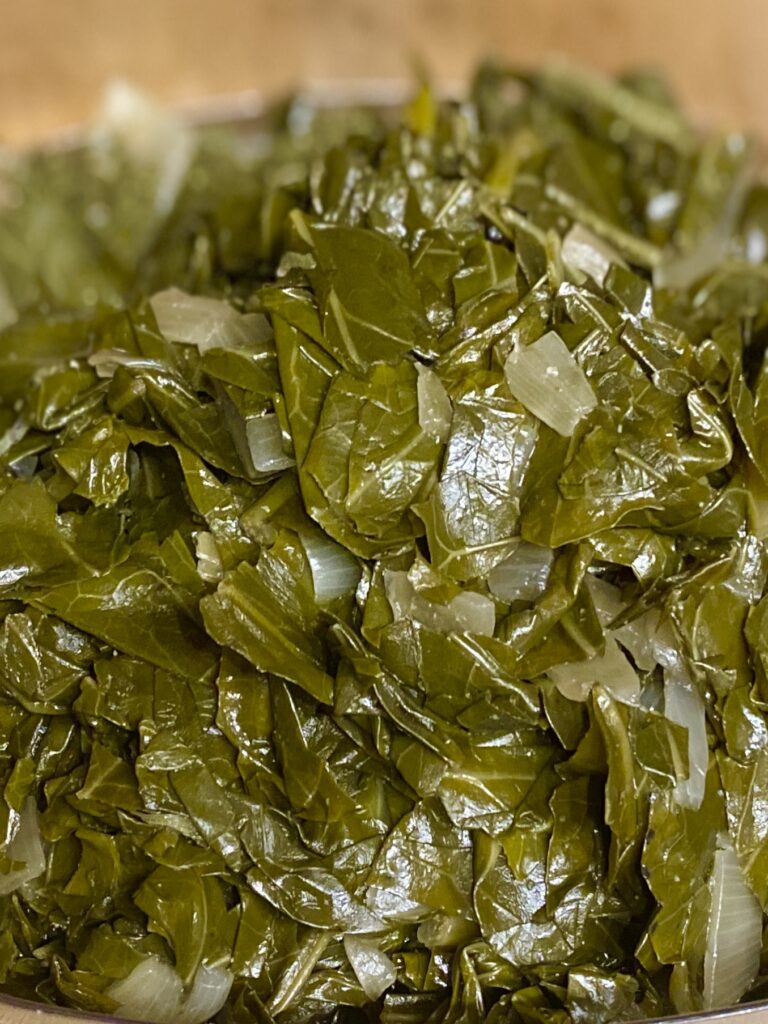 Collard greens are one of the soul food dishes that you could get famous for if done right. And if it is done wrong–it is all the way wrong! Those that manage to season and cook down a delicious pot of greens for family gatherings will have guests show up early with a to-go plate in their hand. As a child, I knew if someone could make greens just by the way the grown ups talked about it. If they whispered, that meant they were horrible. If the commentary was loud, then I knew they were good to go. I also knew that the greens were legit if I saw family packing collards to-go on a doubled up paper plate that was wrapped in aluminum foil so that the "juice" didn't drip on the way home.
Collard Greens and Childhood Memories
I grew up in the Bronx with collard greens all year long. They were always on the side of whatever was the star dish. Of course they were on the side of turkey at Thanksgiving. Christmas lasagna always had a side of collard greens. Sometimes they were the star of a bowl of soup. I remember that soaking the greens was a big deal. If you put your greens down on the dining table and they tasted like dirt and grit, you were in trouble. We had to clean the sink over and over again before they were worthy of soaking our collards. We even had a brand new sink stopper. You would rinse and soak until there was no residue. Now they sell collards in the bag already chopped and washed.
Related to Cabbage and Kale
I love to research and I learned that the collard green got its start near Greece over 2,000 years ago. It is related to cabbage, brussells sprouts and kale. You can spot them in the supermarket because of their large, dark and wide leaves. Low in calories, collard greens are an excellent source of vitamin K, vitamin A, vitamin C, manganese and calcium. They are also a great source of fiber and iron. If you want to add more greens to your lifestyle, you can't go wrong with making collards the star of your plate. As I said, they now come rinsed and chopped but I'm a skeptic so therefore, I still rinse them and go through them to get rid of some of the large and woody ribs that run down the middle.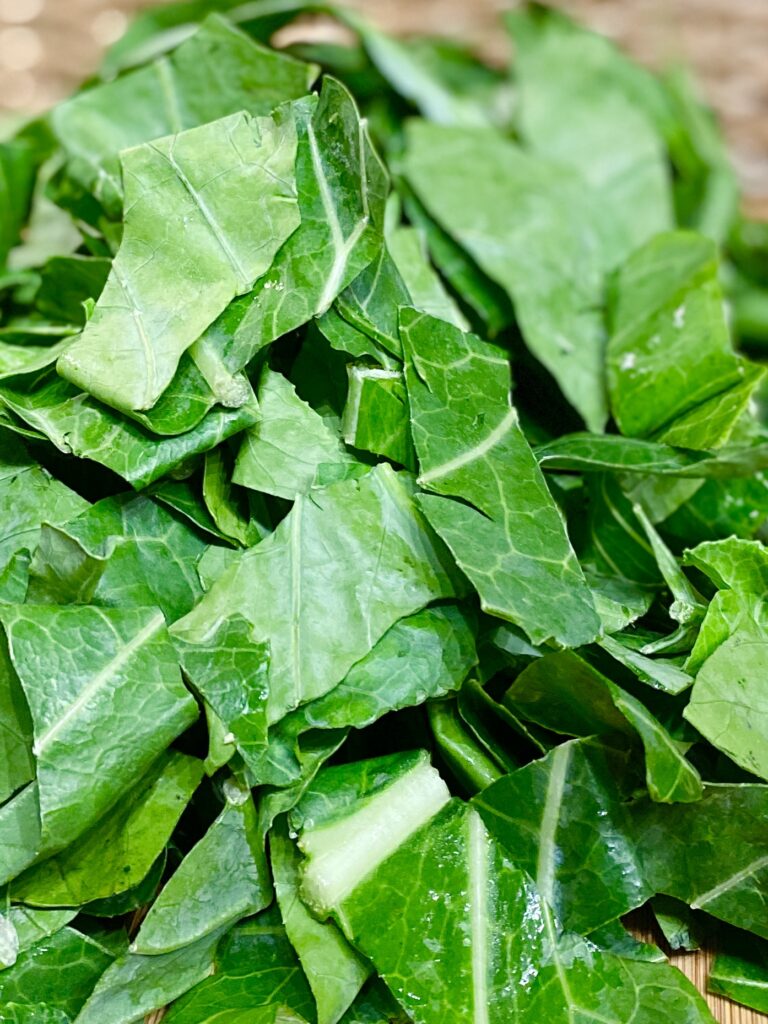 Slow and Easy
I don't know if it is possible to burn collard greens. This is one dish that basically cooks itself. I remember having my greens on the stove on low for like 3 hours! When you have your greens simmering in vinegar and spices, you can do other things like cook other dishes or clean the kitchen! This recipe is a combination of what I remember from my mama and the countless other women who fixed me a plate throughout the years. Our family went from adding ham hocks to bacon to smoked turkey to nothing. This recipe is completely without any meat products. Explore your own creativity as you make your greens. You never know, they might just become your signature dish!
Vegan Collard Greens

Cook Time
1 hour, 45 minutes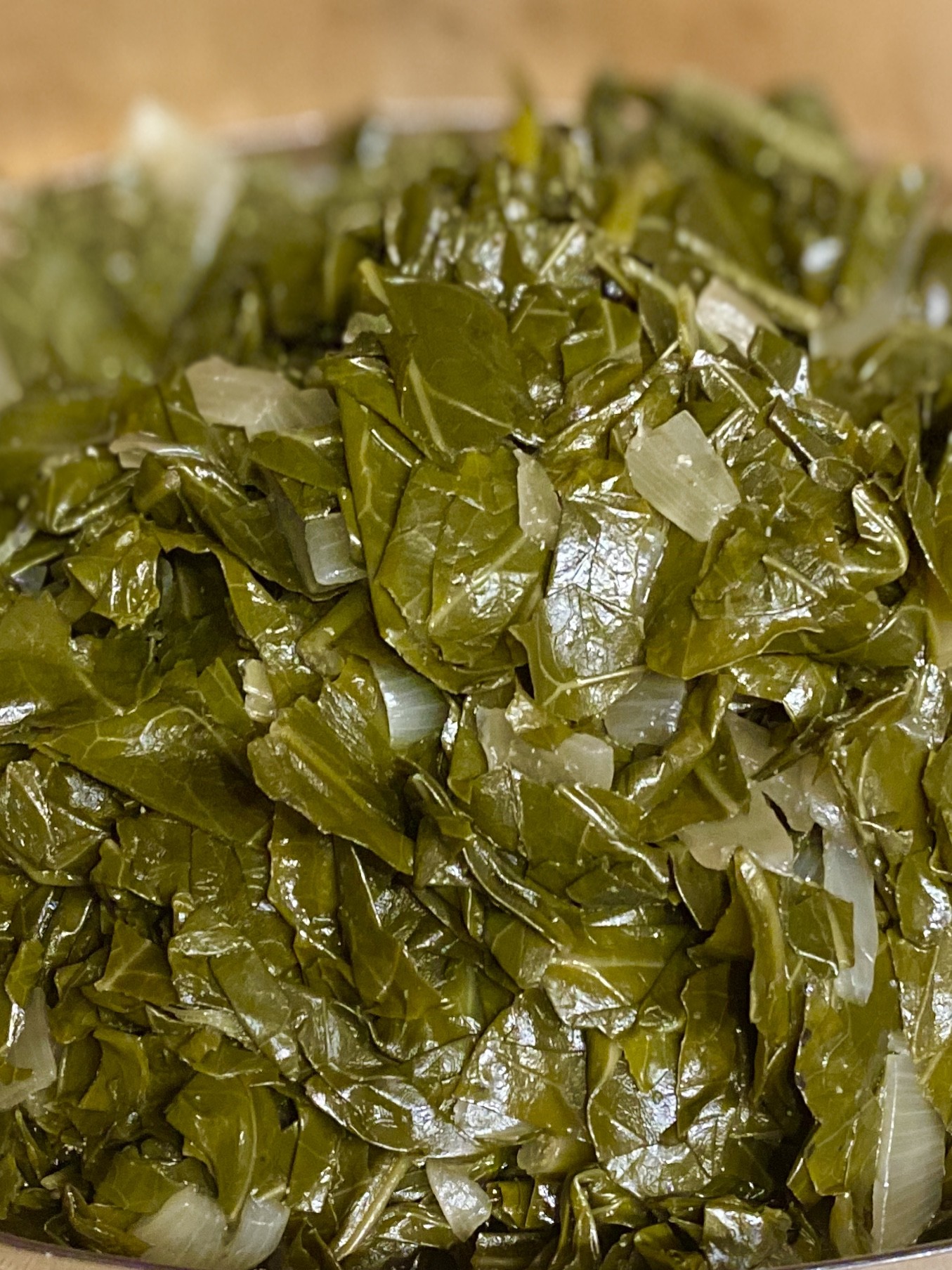 Ingredients
Collard Greens- 2lb bag
One small onion, diced or sliced
Olive Oil- 3 tbs
Cane Sugar- 1 tbs
Garlic Powder-1 tbs
Cayenne Pepper-1 tsp
White Vinegar- 1 cup
Water or Vegetable Broth- 2 cups
Salt to taste (optional)
Instructions
Rinse your collard greens and discard stems or unsightly leaves.
Bring a large pot to the stove and add onions, olive oil, sugar, garlic powder and cayenne pepper.
Let that mixture heat up and stir until onions start to get soft. (About 10 minutes)
Add the vinegar, cup of water and half of collards. Let it cook on a medium flame for 15 minutes.
Add the second half of the collards and another cup of water.
Stir and let the greens cook for about 90 minutes or at least until they are tender.
Watch your pot and make sure they don't burn. You can always add another 1/2 cup of water and additional seasonings if the greens need more time to cook down.
Enjoy!
LA Dunn is a plant-based advocate who makes collard greens several times a year. Go from plant-curious to plant-focused and check out the easy 5 day email class: Introduction to Plant-Based Nutrition. Don't forget to sign up below for email updates and find me on IG @blackgirlseat