Jump to recipe
Lasagna with pesto and cauliflower is a mouthful and well worth all of the vocabulary words. This is one must make plant forward dish. Thanks to guest blogger, Leslie Segar aka Big Lez, we have the full recipe for one of her favorite dishes. If you are looking for more ways to add veggies to your plate, this is the one for you. What's awesome is that once you make it, you can serve it for a family dinner or freeze it and have it just for yourself whenever you feel like it.
You might recognize Lez from her numerous appearances in iconic videos with Mary J. Blige or Michael Jackson. Or you might be watching reruns of Def Comedy Jam as she and comedian Martin Lawrence make many memorable moments. And yet, some of you are still trying to recreate her moves from the opening of the TV classic, Living Single.
Celebrating Vegan Lasagna for Veganuary
You might be used to seeing Lez on a dance floor or behind a microphone. The New Yorker hailing form the borough of Queens, is exploring new foods and recipes too. A self-proclaimed, "hungry student", Lez shared her recipe for Lasagna with Pesto and Cauliflower with Black Girls Eat in recognition of Veganuary.
Veganuary is all about choosing meals without animal products during the entire month of January. You can try one meal a day. Hey, go for it and spend all 31 days without consuming meat, dairy or seafood. Lez kicks off our celebration with a family favorite. She swapped out turkey for cauliflower for her own creative version which adds more veggies to her plate. She also uses vegan versions of ricotta, parmesan and mozzarella. And Lez goes the extra mile by making her own pesto!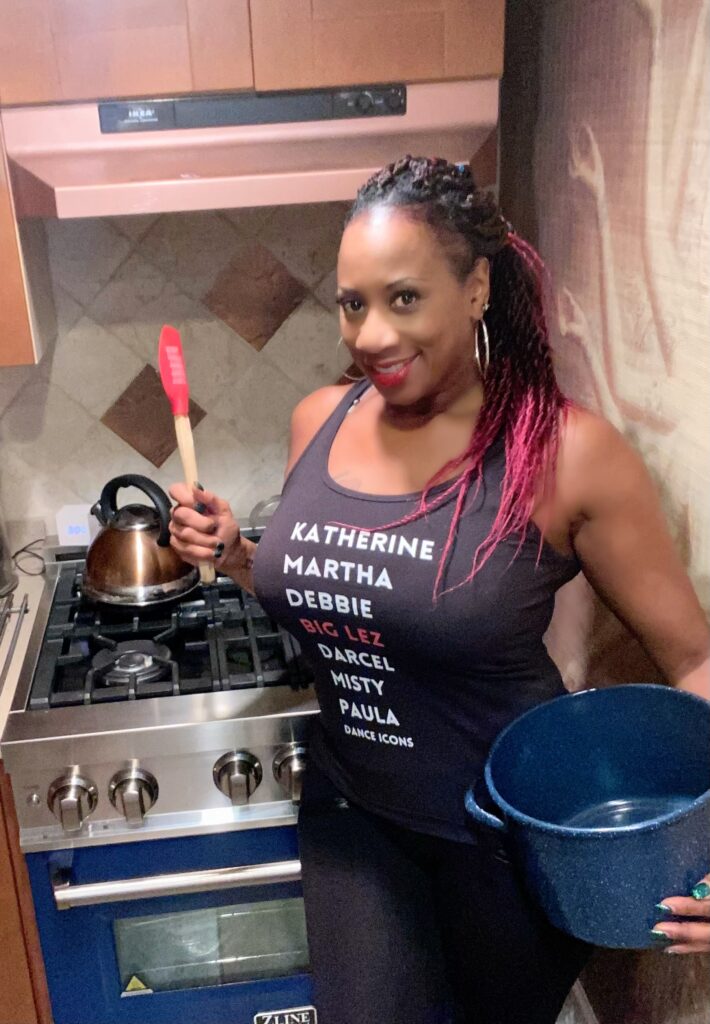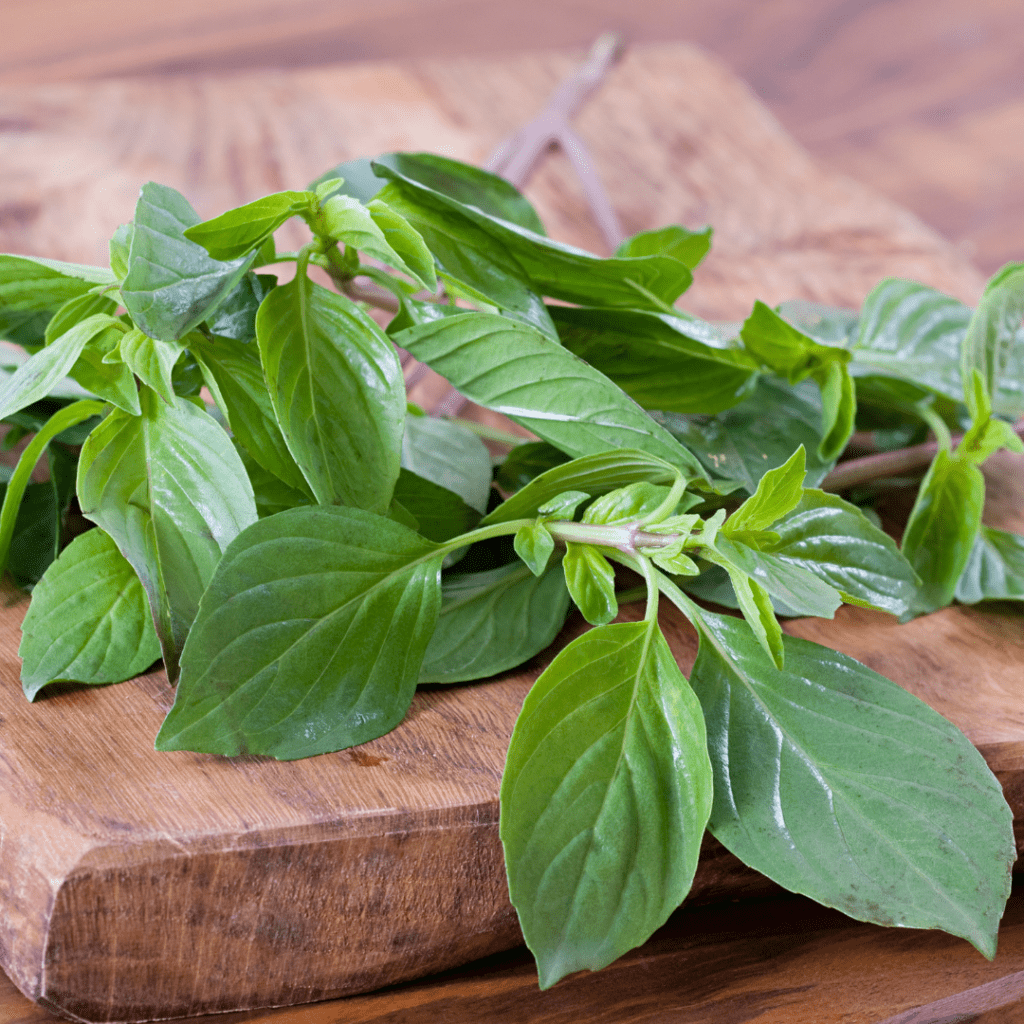 Food is Medicine
This dish has lots of flavor and offers a colorful alternative to traditional meat based lasagnas. The vegetables in the dish also pack a powerful nutritional punch. Basil can reduce high blood pressure, the antioxidants in tomatoes help to fight cancer and cauliflower is a great source of choline. Choline helps to support healthy cells and a healthy brain.
Visit Lez on Instagram @yourgirllez and be sure to tag her and BGE if you try her recipe. Feel free to hang out on the Black Girls Eat site and check out more easy vegan recipes like Spicy Tofu With Honey and Garlic.
Before you go, don't forget to sign up for updates and announcements.
Cauliflower Pesto Lasagna

Cook Time
1 hour, 30 minutes
Total Time
1 hour, 50 minutes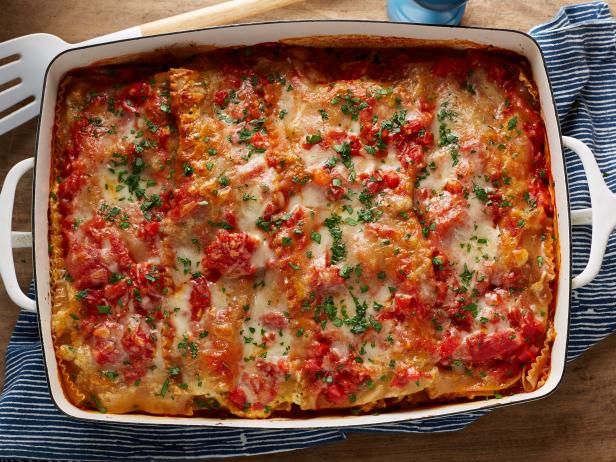 Ingredients
1 package of no bake lasagna noodles
1 head cauliflower (separated into florets)
1 can whole plum tomatoes (crushed)
2 tablespoons tomato paste
1 cup non dairy ricotta
2 cups shredded non dairy mozzarella cheese
1/2 cup grated non dairy parmesan cheese
1/2 cup + 2 tablespoons olive oil
1.5 cups water
7 cloves garlic (1 chopped, 3 sliced, 3 whole)
1/2 tsp salt (optional)
2.5 cup fresh basil leaves (chopped)
2 tablespoons fresh parsley (chopped)
Instructions
Preheat the oven to 425 degrees. You will need a 9×13 baking dish.
Add cauliflower florets to a bowl with 1 tablespoon of olive oil and 1/2 teaspoon salt (optional) Spread the florets in an even layer on a baking sheet and roast, tossing once, until tender and golden brown, about 30 minutes. Let cool.
Add ricotta, roasted cauliflower and 1 clove of chopped garlic to a food processor and pulse until evenly pureed. Add 1/4 cup basil and continue to pulse until blended well but not puréed.
Heat 1 tablespoon of oil in medium saucepan. Add 3 cloves of sliced garlic and stir gently as garlic begins to sizzle and becomes aromatic…about 1-2 minutes. Add the tomato paste and stir to incorporate, about 30 seconds.
Add plum tomatoes, 1/4 cup of basil and 1.5 cups of water. Bring to a boil, reduce the heat and simmer, stirring occasionally, until the sauce is thickened, about 30 minutes. You should have about 3 3/4 cups of sauce.
Add 2 cups chopped basil, 1/2 cup of parmesan cheese 3 garlic cloves to a blender or food processor. Begin to pulse the ingredients and slowly add 1/2 cup of olive oil to the mixture. Add salt and pepper to taste. Blend well.
Spread 1 cup of the tomato sauce to the bottom of the pan. Lay 3-4 no bake noodles on top of the sauce. Spread 1 cup of the cauliflower-ricotta mixture on top of the lasagne noodles. Add a layer of pesto sauce, tomato sauce, mozzarella and parmesan.
Continue to build your layers until all ingredients are done. Noodles, Cauliflower-Ricotta Mixture, Pesto, Tomato Sauce, Mozzarella, Parmesan
Cover with foil and bake until bubbly and hot, about 30 minutes. Remove the foil and cook until the cheese begins to brown, about 10 minutes more.
Allow to rest for 10 minutes so the lasagna will cut more easily. Garnish with the parsley.