Jump to recipe
Butternut squash sauce popped up in my life a few months ago. I was staring at several packages of bucatini pasta and looking for ideas. I don't know about you but, I get bored from time to time. As I am exploring plant-based nutrition, I'm expanding my food vocabulary.
In the past, butternut was a rock hard veggie that I ignored every time I saw it in the market. One day I got up the nerve to buy one. Did you know that it's considered a vegetable but it has seeds so it's really a fruit? I learned to peel the outer layer and roast it. I love roasted butternut squash. But I never imagined making butternut squash sauce.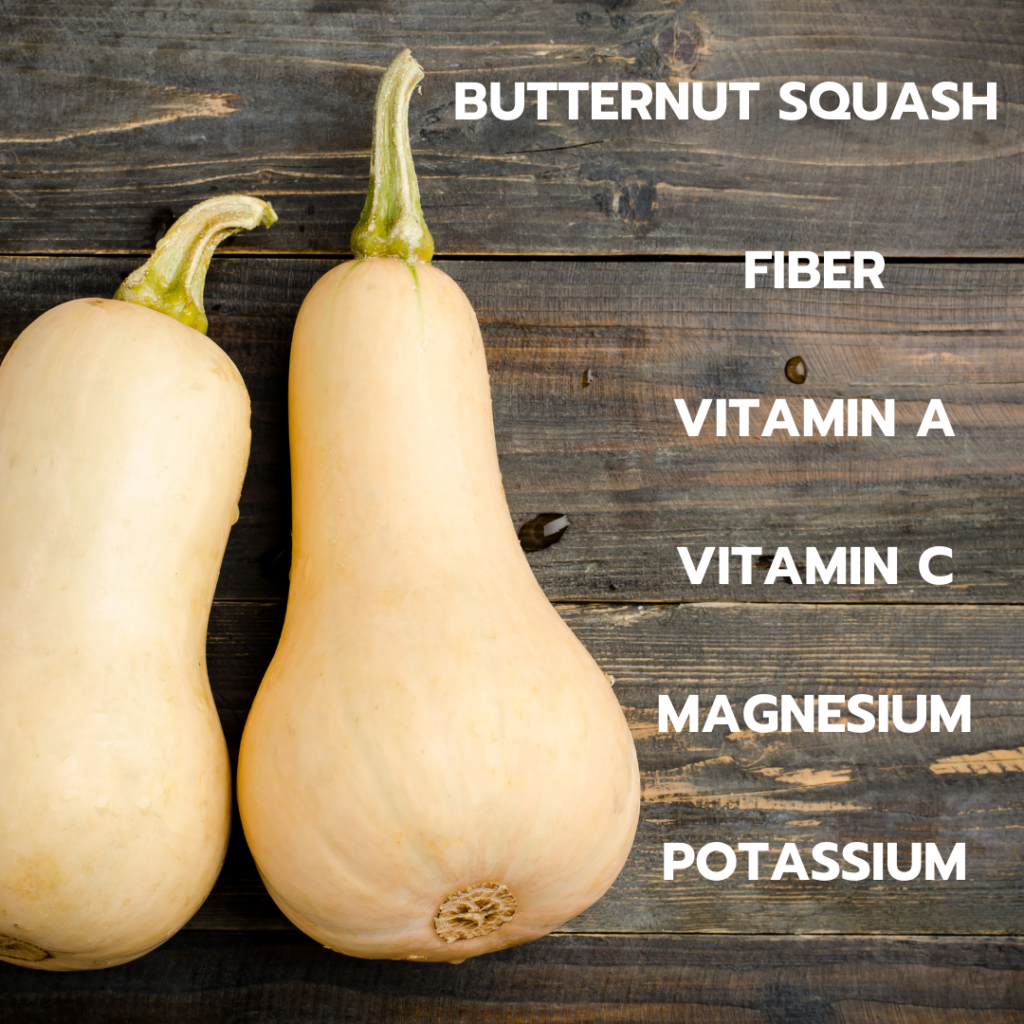 From Marinara to Olive Oil to Alfredo Sauce
The truth is, I was a full adult before I put anything other than marinara sauce on my pasta. That's just how it was growing up. We made spaghetti and the red sauce went on top. I remember when I graduated to the simplicity of olive oil. Whew! Olive oil with a touch of black pepper became the standard for years.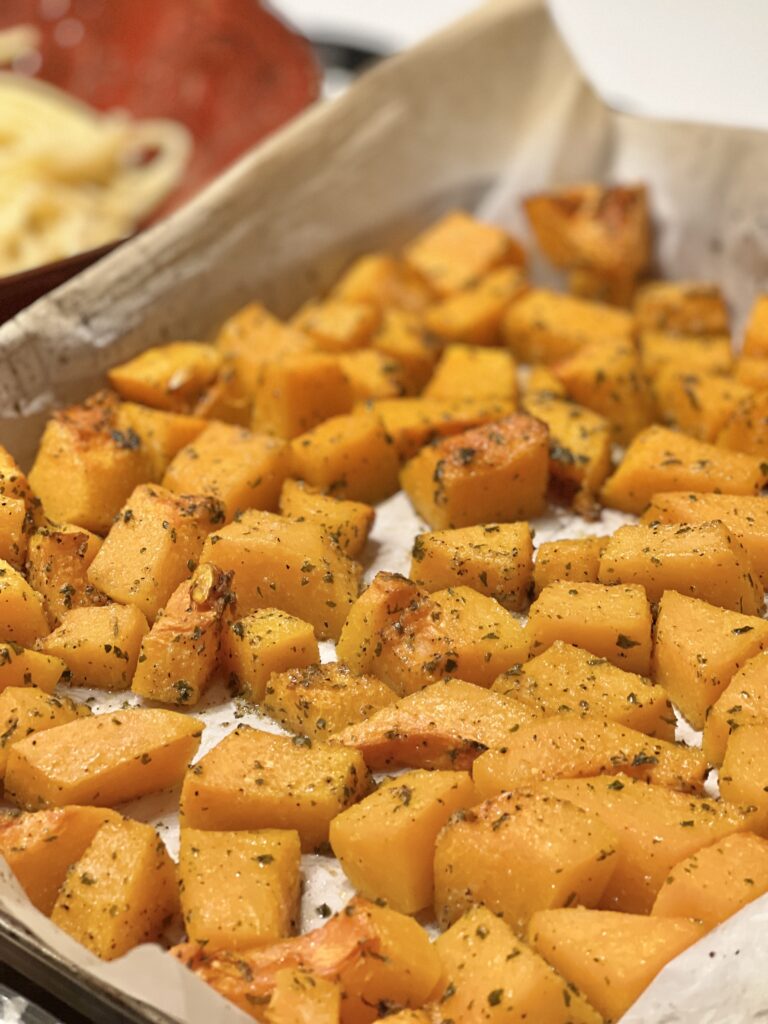 But then came Alfredo sauce. I loved it for the creaminess. But that also came with a price. Once I started taking a look at the causes of inflammation, my relationship with dairy changed. For some, it's no problem but I found that the less milk and cheese I ate, the less achy I felt. It's a shame because I became really good at making Alfredo sauce. I could whip up some milk and parmesan cheese with a touch of garlic in minutes.
Butternut Squash Sauce to the Rescue
The vitamin A and C found in butternut squash provide a powerful antioxidant punch. That rich orange color makes it visually appealing and good for you. I'm pretty creative when it comes to getting more vegetables on my plate. So making butternut squash sauce made me excited. I couldn't wait to pour it over my bowl of pasta.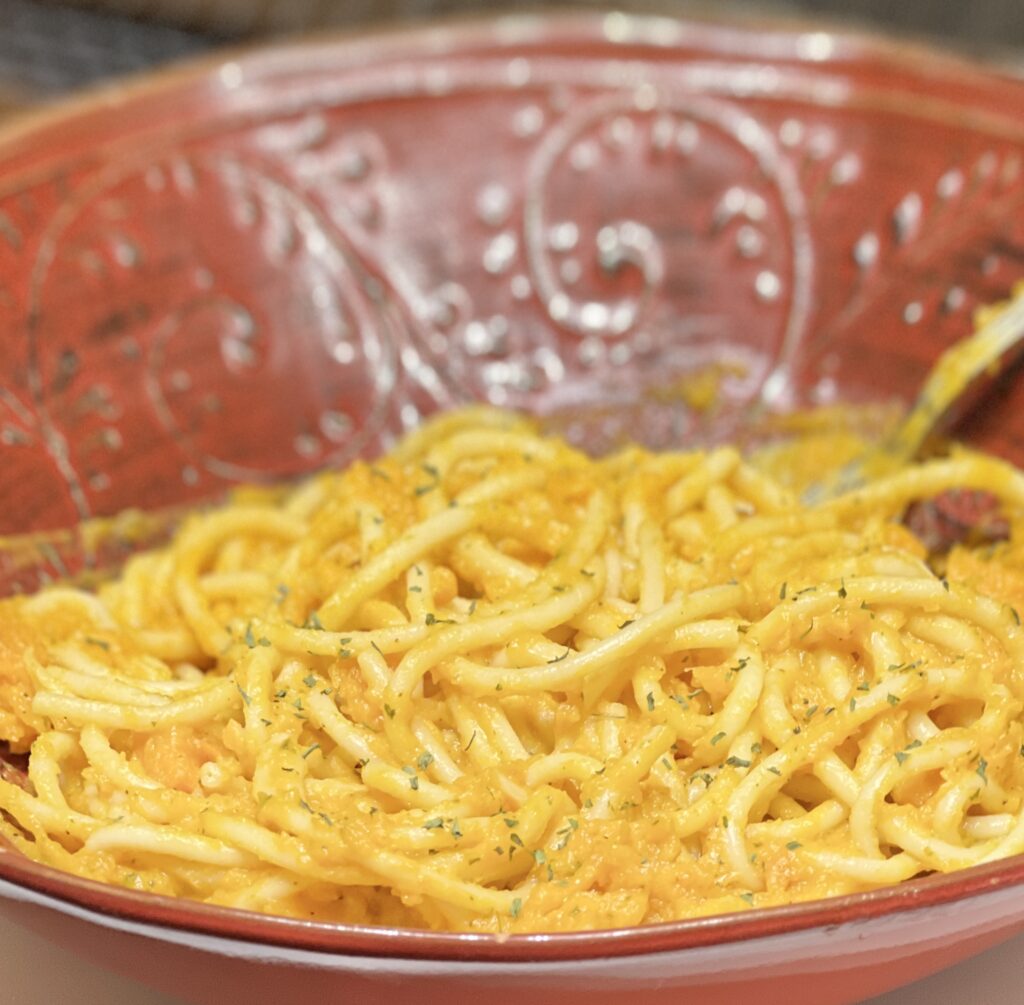 Butternut Squash Sauce Takes This Bowl of Pasta to the Next Level
What's cool about this recipe is that it's easy. After you season and roast your squash, the blender helps turn it into butternut squash sauce. Unless you just decide to eat the roasted squash! lol.
This has been my new go to for my pasta. It works well with whatever you have from bucatini to penne. What's also awesome is that you can make a bunch and store it in the freezer. Looking to shake up pasta night at your house? Give this recipe a try and start a new tradition.
LA Dunn is a plant-based advocate who is excited about adding more plants to her plate from her garden this summer. Trying to understand the basics of plant-based nutrition? Check out her easy 5 day email class: Introduction to Plant-Based Nutrition. While you are here, take a look at the Black Girls Eat Online Shop and sign up below for updates.
Easy Butternut Squash Sauce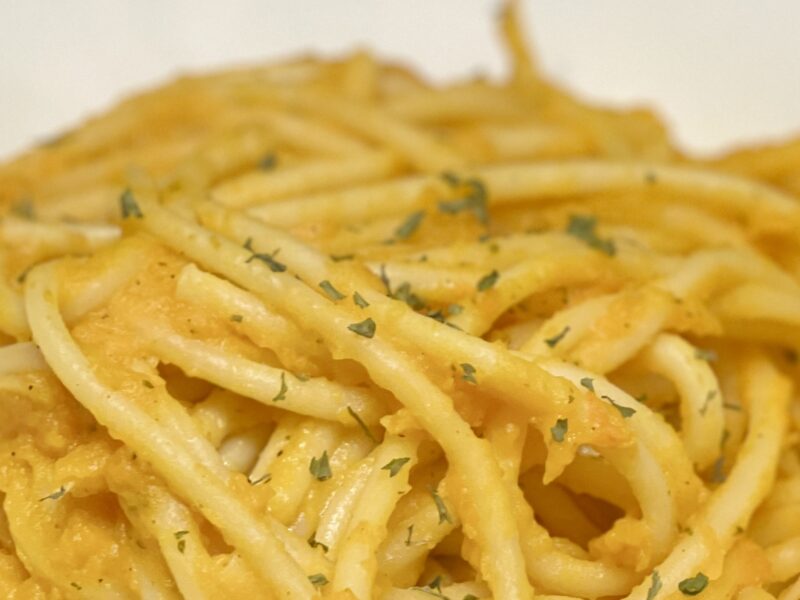 Ingredients
1 medium Butternut Squash
1 cup plant-based milk (oat, almond, etc.)
2 tbs extra virgin olive oil
2 tsp garlic powder
1 tsp onion powder
1 tsp salt
1 tsp pepper
Parsley (garnish)
Instructions
Pre-heat oven to 400 degrees. Prepare your pasta according to directions.
Use your vegetable peeler to remove the outer layer of the squash. Carefully slice down the middle to reveal seeds. Scoop out and discard the seeds.
Slice the squash into cubes and place on a cookie sheet lined with parchment paper or aluminum foil. Add olive oil, garlic powder, onion powder, salt and pepper. Coat squash completely. Bake for 30 minutes or until tender.
Let squash cool. Add to a blender or to a bowl if you are using a handheld blender. Add plant-based milk and mix until smooth.
Pour sauce over your favorite pasta and garnish with parsely.