Jump to recipe
I grew up eating grits but I was not familiar with polenta. Not sure which is which? Polenta is made from yellow corn and white grits are made from, yep, you guessed it…white corn.
Breakfast used to stress me out. At least that's how I felt when I started leaning away from animal products. So first went the bacon and sausage. Then I let go of scrambled eggs. Eventually, I learned that meat and dairy were the main cause of my aches and pains. Breakfast got really different.  But there was always room for grits.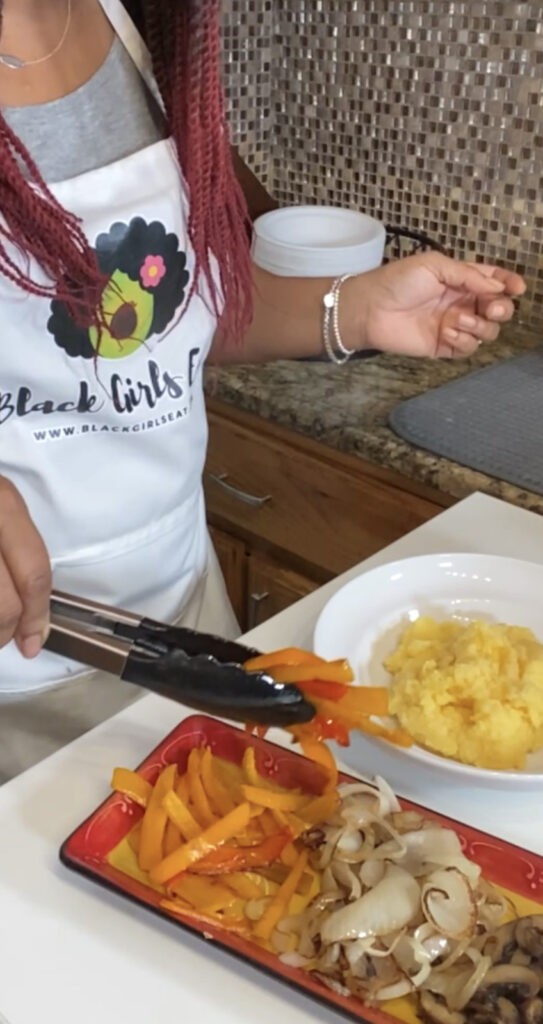 Remixing My Plate
I should back up and tell you why I started remixing my plate. A trip to the doctor revealed that I had a lot of inflammation in my body. After months of not feeling well, I started researching plant-based nutrition. I took a few courses and learned that meat and dairy were high on the list of culprits. I wondered what I would feel like if I changed the way I started my day. Breakfast took the hit first. And my bowl of grits looked lonely.
One of the key concepts that I had to let go of was the word breakfast itself. I had to shake images of cheese eggs, bacon and sausage out of my head. Once I did that, I realized that I could have whatever I wanted for my first meal. Spinach and mushroom salad for breakfast? Grits with roasted carrots and chickpeas? Sure. Why not?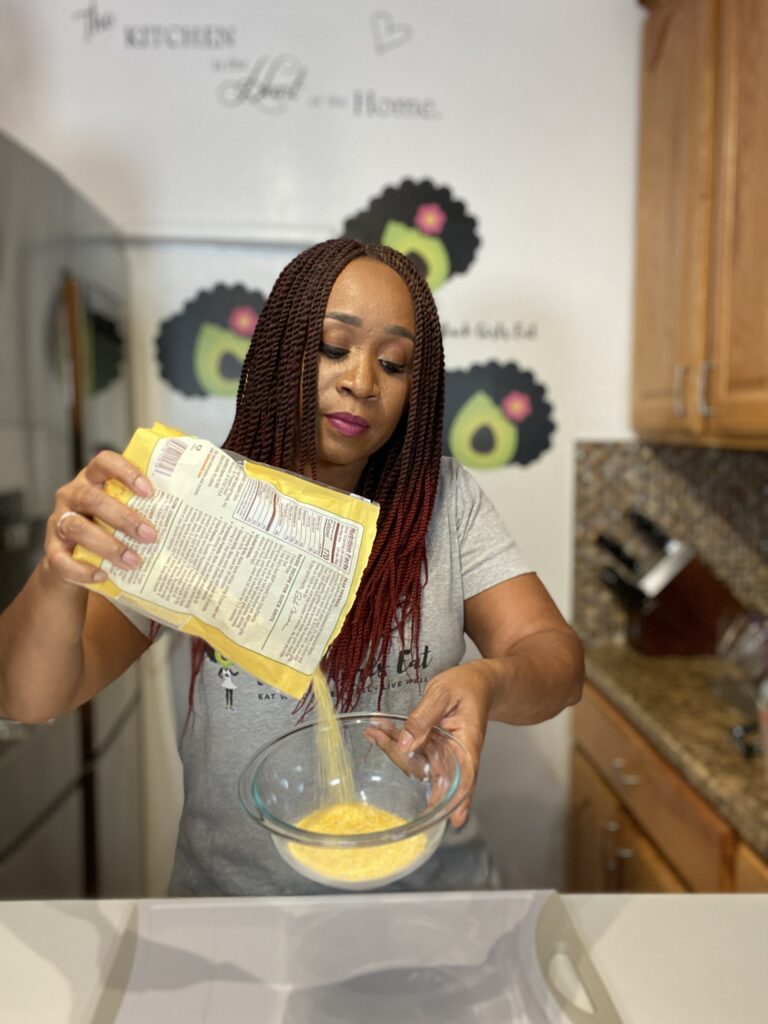 Grits and Veggies for Breakfast
That's why I'm sharing a recipe for easy breakfast polenta. As a plant-based advocate, I'm always looking for more ways to get plants on my plate. A breakfast bowl of yellow corn grits with onions, peppers and mushrooms is a perfect way to start a plant-based day.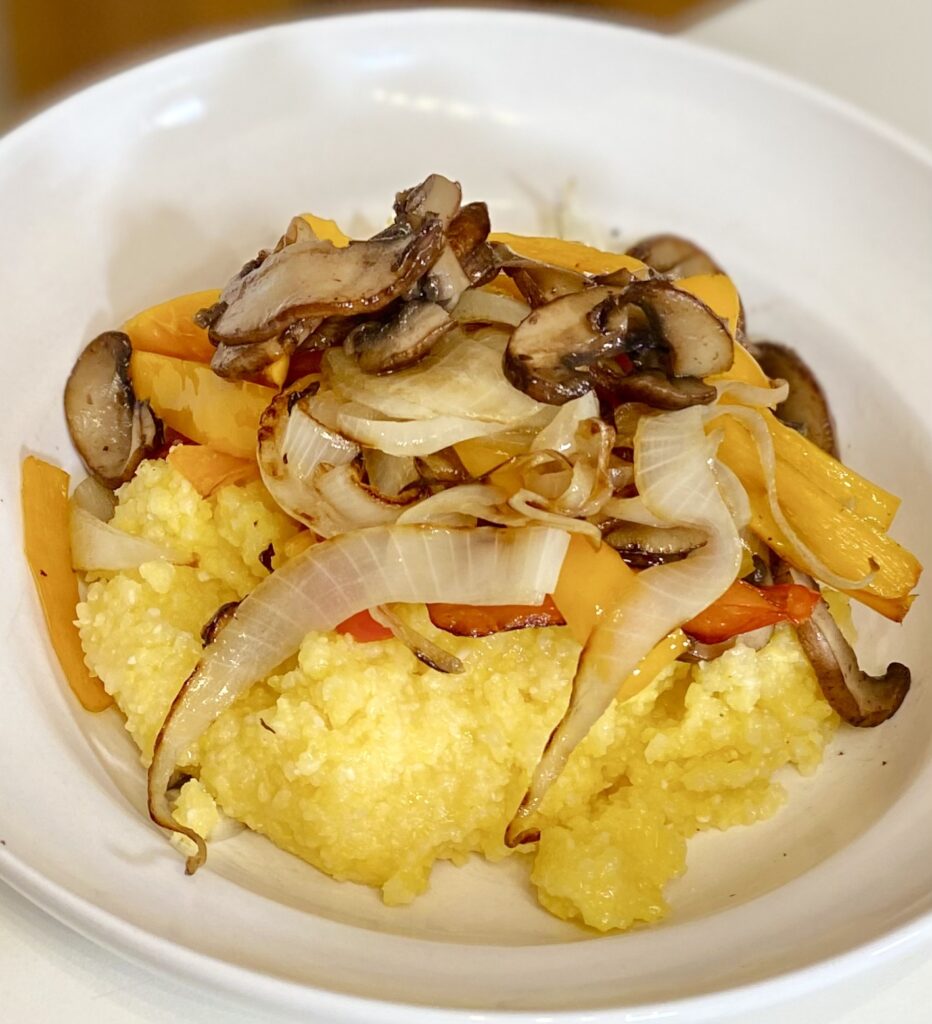 LA Dunn is a plant-based advocate from the Bronx who is rooting for everyone in her borough. She created Black Girls Eat to build a community for Black Women and families who want to make healthier food choices. You can find her on Instagram @blackgirlseat
Want to go from plant-curious to plant-focused? Check out the easy 5 day email class: Intro to Plant-Based Nutrition. While you are here, visit the Black Girls Eat Online Shop for t-shirts, gifts and more. Finally, sign up below for updates and announcements.
Breakfast Polenta Bowl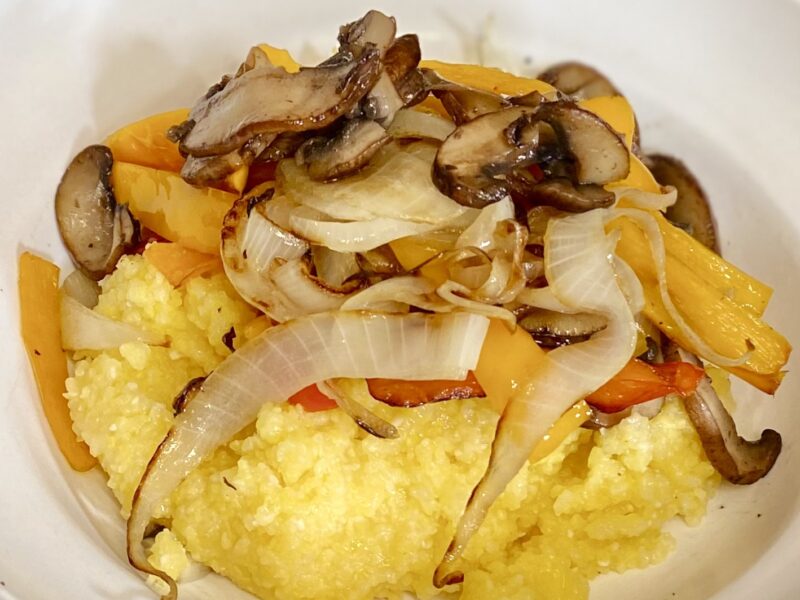 Ingredients
3 cups of Water
1 cup Polenta (Yellow Corn Grits)
1 onion
1 cup of mushrooms
1 cup of peppers
Water for sautéing vegetables
Salt and Pepper (Optional)
Instructions
Add water to a saucepan and bring to a boil. Add polenta and stir. It should be done in about 5 minutes. (Or follow package directions)
Slice onion, mushrooms, peppers. Add a cup of water to a frypan or skillet on medium heat and add vegetables. The mushrooms and peppers will get tender and the onion should look clear or translucent.
Serve polenta topped with veggies and a dash of salt/pepper (optional)