Jump to recipe
Blueberry oatmeal muffins make back to school mornings easier. These muffins help ensure that we all make a healthy start to the day. Made with ingredients that we already have at home, making them is always an easy choice. I just happen to love blueberries but I'm sure that you could add your favorite fruit and they will turn out just fine.
Like most families, our mornings are busy. I wake my daughter and help her get ready. Hubby feeds and walks the dog. Unlike our lazy Saturdays…when we are in back to school mode, we need something quick. Quick but not junk food or fast food quick. That's why I love these blueberry oatmeal muffins. I know that oats and blueberries are good for you. Because I make the muffins, we are not worried about weird ingredients.
Blueberry Oatmeal Muffins Are Heart Healthy
By adding oats to this blueberry oatmeal muffin recipe, we have given them a superpower. When you are looking for a heart healthy start to the day, you can't go wrong with oats. Oats are a great source of soluble fiber. They help to lower blood sugar levels as well as cholesterol levels. That means oats and oatmeal can support reducing the risk of heart disease and diabetes.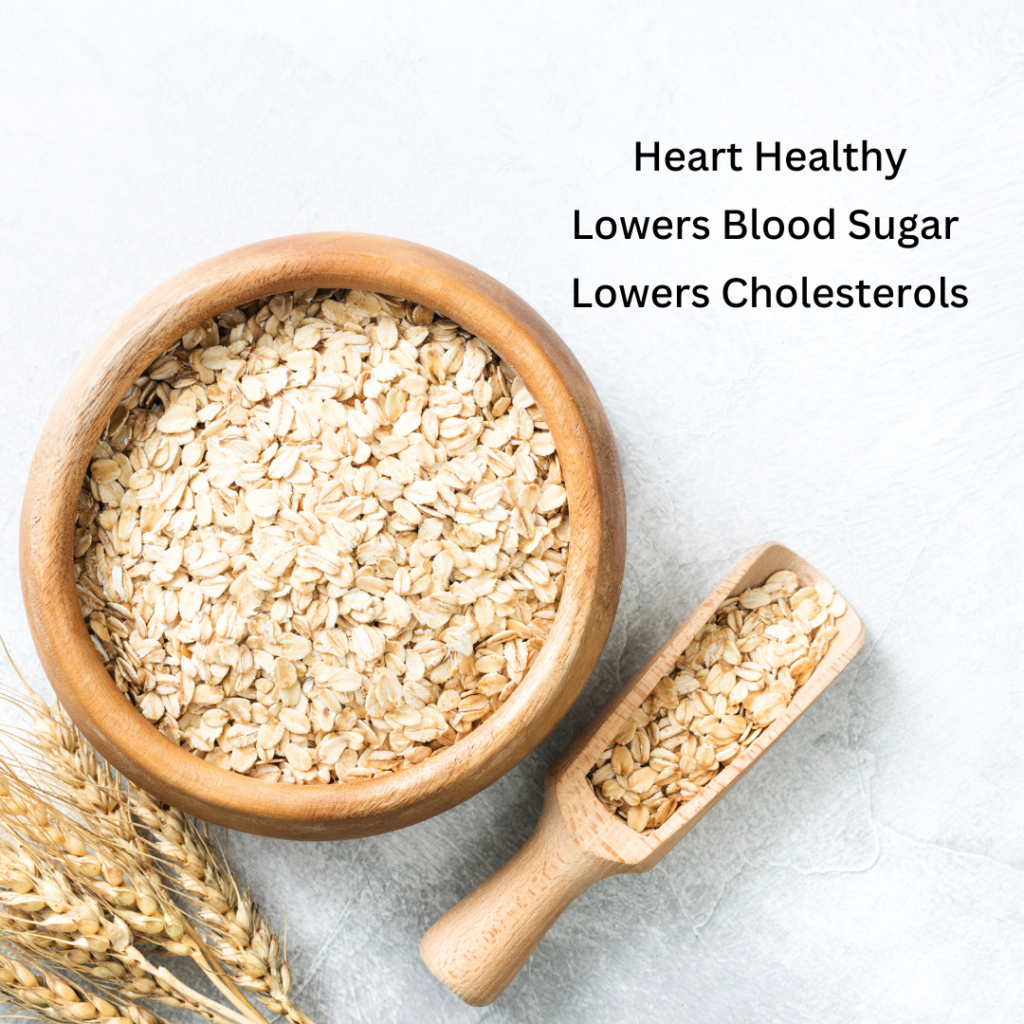 I could have made these muffins without oats or blueberries. But that would have meant a limited amount of nutrients. That would also mean that I couldn't call them blueberry oatmeal muffins! Lol! But seriously, blueberries are insanely heart healthy and one of the best antioxidant foods available.
Antioxidants help keep our bodies free from unstable molecules which can contribute to aging and cancer. Blueberries also offer fiber, vitamin C, vitamin K and manganese. And did I mention that these muffins offer fiber? That's what keeps us going until lunch time.
Making the Plant-Based Connection
When I started leaning into whole foods plant based nutrition, I had a limited understanding of what it all meant. Once I understood that I was now preparing meals with foods that for the most part had not been broken down and processed, it made sense. For the blueberry oatmeal muffins, we just needed real blueberries and real oats. Real whole foods. Thus, the name of the largely popular supermarket.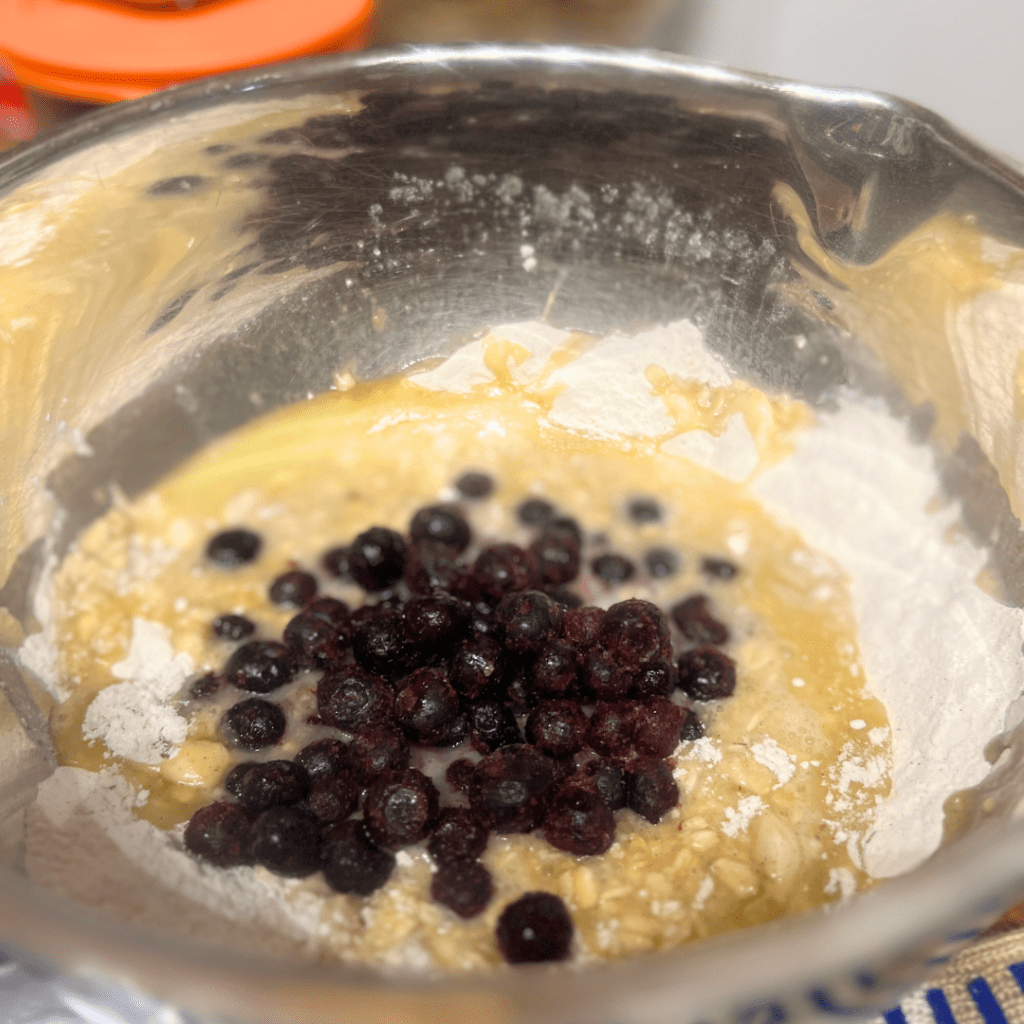 A lot of people only think of deli meats when they hear the term processed foods. But that definition extends to baked goods as well. Many of the blueberry oatmeal muffins on the shelf in the store contain all kinds of extras that you really don't need. For my family, I keep it simple. Simple ingredients make for simple plant-based meals and treats made with love.
What You Will Need For Your Blueberry Oatmeal Muffins
Kitchen Items
Large Spoon
Measuring Spoons
Whisk
Muffin Liners
Muffin Pan-12 Count
Notes to Consider
I used oat milk instead of traditional milk and a plant based butter for my blueberry oatmeal muffins
I used frozen blueberries which means I reduced the milk to 3/4 cup instead of 1 cup to account for the water in the frozen blueberries
My muffins stayed fresh for 7 days in the fridge after I baked them
Shout out to the team @sallysbakingaddiction for the inspiration for these blueberry oatmeal muffins. It's a really great site with lots of fun traditional and vegan recipes. Have fun making these and have a wonderful start to every day!
LA Dunn is a plant-based advocate from the Bronx. She is always looking for new and tasty ways to add more plants to her plate and this recipe featuring oats and blueberries does just that. Follow on Instagram @blackgirlseat and be sure to check out the latest issue of Recipes & Random-Ish. Complete the form below to stay connected.
Blueberry Oatmeal Muffins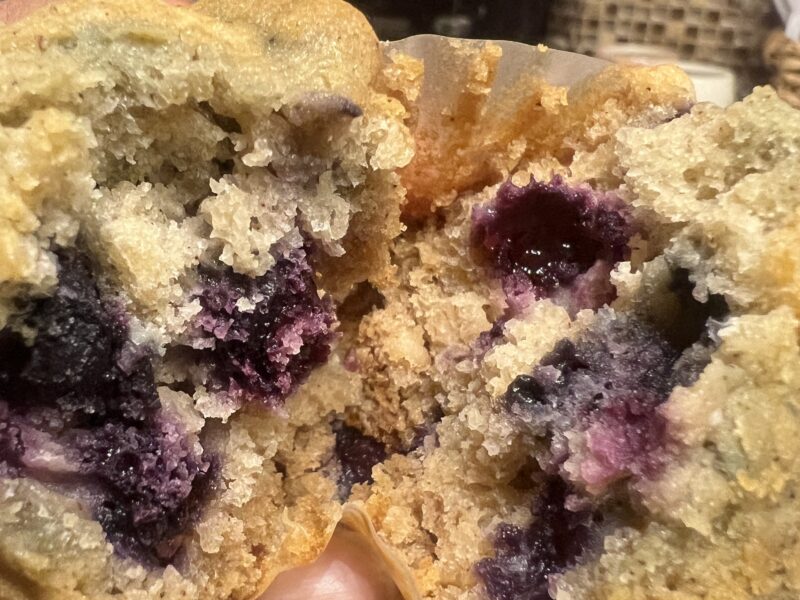 Ingredients
1 cup oat, almond or traditional milk
If you are using frozen blueberries, reduce to 3/4 cup
1 cup Old Fashioned Rolled Oats
1 tsp Baking Powder
1/2 tsp Baking Soda
1/2 tsp salt
8 tbsp melted plant-based butter ( I used Earth Balance)
1 large egg (room temperature)
2 tsp pure vanilla extract
1 cup blueberries
Instructions
Heat your oven to 425 degrees.
Prepare your 12 muffin pan. I use muffin liners for easy clean up.
Set aside three bowls.
In bowl 1, add oats and milk and let rest for 20 minutes.
In bowl 2, add flour, baking powder, baking soda, cinnamon and salt together. Whisk until combined.
In bowl 3, whisk melted butter, honey, egg and vanilla extract until combined.
Pour the wet ingredients (Bowl 3) into the bowl with the dry ingredients (Bowl 2) Stir and then add the soaked oats and milk (Bowl 1).
Finally, add the blueberries. Fold everything together until combined.
Fill your muffin tin or liners to the top. Bake for 5 minutes at 425. Keep the muffins in the oven and then lower the temp to 350. Bake for an additional 16-18 minutes