Beyond sausage, burgers and now Beyond Fried Chicken. Whoa! This week, chicken enthusiasts are being offered a new food product. It's a Kentucky Fried Miracle. Well, miracle seems appropriate when you consider how the company got started.
Who is Colonel Sanders?
Colonel Harland Sanders learned to cook from his mama. In the 1930's he began selling his fried chicken to travelers who passed through his gas station. The governor of Kentucky named him the Kentucky Colonel and the rest really is history. He started adding seating at the station. And eventually, he opened a motel and restaurant across the street.
Beyond Anything You Could Imagine
---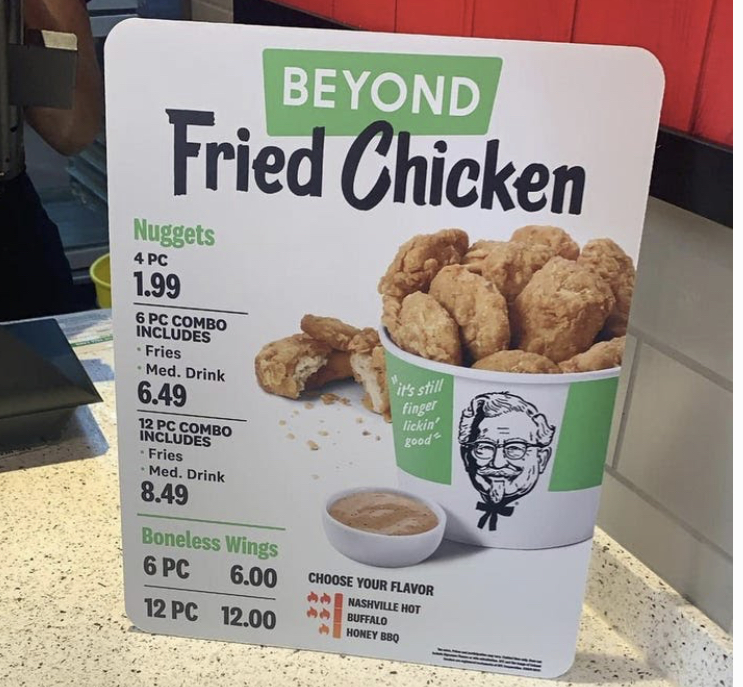 " The new product is for customers "that want to eat a little less animal-based protein, but that haven't become vegan or vegetarian,"

— KFC US President, Kevin Hockhman
---
It took two years for the Beyond Company and the Colonel to develop the new Beyond Chicken. The focus was on taste and texture. Do they have separate fryers? Nope. The nuggets are fried in the same oil as the regular chicken. Hmm….McDonald's doesn't have separate grills for their plant based burgers either. Anyone else concerned?
So What's In These Nuggets?
Soy and wheat proteins make up the Beyond Fried Chicken nuggets. Don't forget the iconic 11 herbs and spices. Are they healthy? It doesn't seem that they are healthier than what they are already selling. Does leaning into plant-based nutrition mean leaning into these nuggets? Maybe not. Just for fun, I found some great homemade vegan nugget recipes that are offer protein and flavor.
Will going Beyond, stop their chicken production? You can get a six or 12 piece of Beyond Fried Chicken at just about 4,000 locations nationwide. The 2019 debut in Atlanta sold out in five hours. If you visit and try it, let me know. Find me on IG or FB @blackgirlseat.
LA Dunn is a plant-based advocate who wants more people to eat more plants. While you are here, check out some plant-based recipes like Easy Red Beans and Rice or Vegan Sweet Potato Pie. Don't forget to check out the Black Girls Eat Online Shop and sign up below for updates.
Source: USA Today