Jump to recipe
Red beans and rice is one of those side dishes that appears visually intricate but always tastes simple yet delicious. I am a recovering carnivore. I never imagined a time when my red beans would not be simmering with seasonings, peppers and lots of sausage. Remixing my plate means leaning away from animal products. I'm having fun and finding new ways to enjoy some of our family favorites.
Red Beans and Rice and Laundry Day
It takes me forever to write blog posts. I made red rice and beans about a month ago but getting the experience into a post has been delayed. That's because I love to research food and culture to make this a more interesting read for you. I spent some time digging into the history of red beans and rice. The popular dish originated in New Orleans. Now that is a city to love. Whenever I am there, it feels like I'm saying hey to all of my cousins. I have great memories of beignets at Cafe du Monde and the jazz trio at The Court of Two Sisters. Legend says that women did laundry on Mondays and needed a dish that would cook slowly. Red beans and rice was born to be served on Mondays. It's a favorite choice to this day in and outside of Louisiana.
Canned or Soaked?
I wish I could say I was in love with the concept of beans soaking for an hour or so. That is not the case. Thanks to over zealous online shopping, there are all kinds of beans in my pantry. There are black, navy and kidney beans. I just love that I can open them and start cooking. I'm using red kidney beans for this recipe. I made it many times while living in my first apartment. It was affordable and easy to make. I used to love grabbing a bowl of red beans and rice with a side of cornbread after work. That's why this red beans and rice recipe is so special to me. It just feels like a bowl of memories.
Before you start, gather everything you need because there are a lot of ingredients. It's not a hard dish to make though. As always, swap out some items if you don't have them on hand. It's okay to work on your own flavors to suit you.
Easy Red Beans and Rice Recipe For Anytime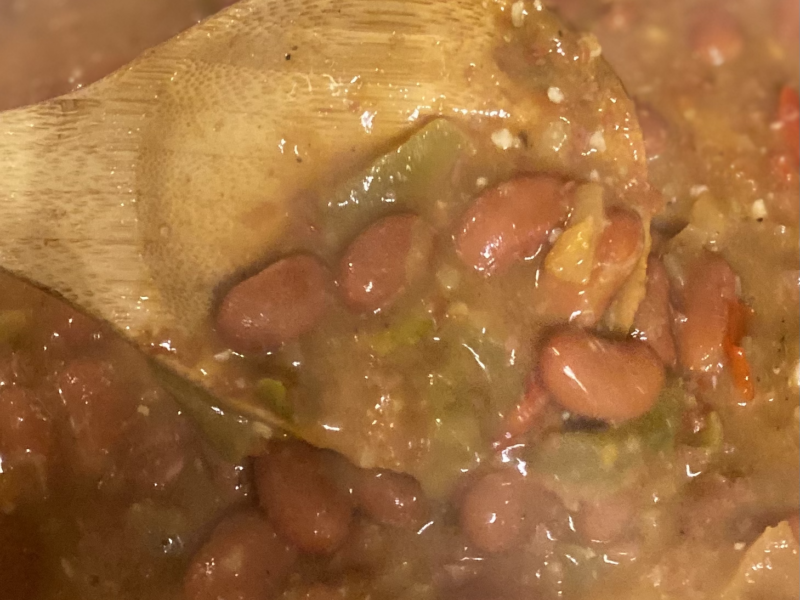 Notes
Make a batch of red beans and keep them in the freezer for a quick side dish anytime.

Ingredients
3 15 oz cans of red kidney beans
1 cup of vegetable broth
1 onion
1/2 cup diced red bell pepper
1/2 cup diced green bell pepper
2 cups diced celery ribs
3 tbs minced garlic
3 tsp smoked paprika
1 tsp onion powder
1/4 tsp cayenne pepper
2 tbs cooking oil
Rice (Prepared according to package)
Instructions
You should go ahead and prepare your rice first. I used brown basmati rice.
Add oil to skillet and add diced onion, peppers, celery and minced garlic. Allow them to cook down and then add smoked paprika, onion powder and cayenne pepper. Simmer on low.
Take a can of beans and add all of it including the liquid to your blender. Blend until smooth (Puree). Take your other two cans of beans and drain them. Add the bean puree, drained beans and vegetable broth to your skillet.
Cover and let boil. Then let it simmer for 45 minutes. When done, serve with rice.