Jump to recipe
Cauliflower was always the boring colorless cousin of broccoli. That's how I described it anytime someone asked me what I thought of it. But with age comes wisdom and after years of avoiding it, I finally took a good look at cauliflower. I found out that cauliflower is great source of fiber and b-vitamins. It also is a great source of choline which is key for maintaining a sharp memory.
When I started leaning into plant-based nutrition, I never imagined how creative I would get with vegetables. When I grew up, vegetables were on the plate. We didn't necessarily do anything to them. Making a dish like cauliflower rice is proof that you can eat more plants and have fun doing it.
But Is Cauliflower Rice Really Rice?
So of course it's not really rice. To get the look, I used my cheese grater to break the cauliflower pieces into tiny pieces. From a distance, it really looks like rice. You can buy it already riced up or you can borrow my cheese grater technique. You can also use your food processor and pulse them into rice like morsels. There are times when I miss the veggie fried fried rice that came with a side of egg rolls. Learning to make cauliflower rice has made me so happy!
A Healthier Option
Traditional fried rice is of course made with rice, veggies and sometimes a protein like chicken or shrimp. Cauliflower rice is made the same way except it's all made from cauliflower and vegetables. If you have been trying to get more vegetables on your plate then this is the dish for you. The more veggies you add, the more colorful it becomes. That's how you take it from just a side dish to a main attraction. So what do you have in the fridge? Consider a variety of vegetables to toss into the mix. This includes broccoli, snow peas, carrots, onions and peppers.
LA Dunn is a plant based advocate who recently planted a whole garden in her backyard. She's most excited about pulling up her own onions, potatoes and carrots in the near future. Sign up below for updates . If you have 20 minutes, listen to an episode of The Black Girls Eat Podcast.
How To Turn Cauliflower Rice Into An Awesome Side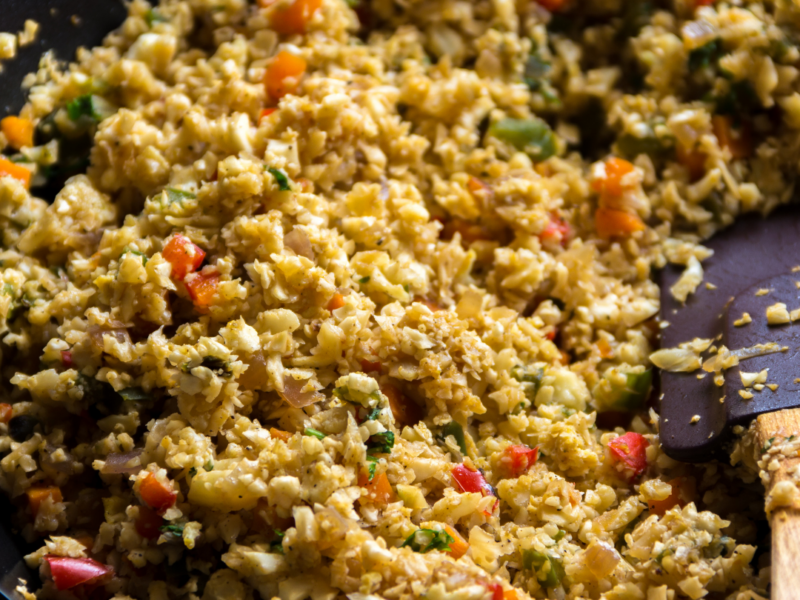 Ingredients
1 head of cauliflower or 2 cups of already riced cauliflower
1 tsp of oil
1 cup of vegetables. You decide. I like onions, broccoli, snow peas, corn and red peppers.
1 tsp of minced ginger
1 tsp of minced garlic
2 tsp of light soy or amino acids
Pinch of salt & pepper (optional)
1 egg (optional)
Instructions
Add oil and heat your fry pan or skillet on medium-high. Add the cauliflower. Stir often to get rid of the moisture.
Add the ginger, garlic and soy and and stir. Add your vegetables and continue to mix well. If you are adding the egg, scramble it in a separate pan and then mix it into your cauliflower rice.
Options
Add other veggies
Add a protein like chicken or shrimp
Make it spicy with a dash of cayenne pepper or red pepper flakes
Add scramble tofu instead of egg to keep it vegan