Life is good when you have a homemade veggie egg roll in your hand or on your plate. I have always loved the simplicity of an egg roll. To be honest, I love anything that you can stuff and wrap which why quesadillas, wraps and tacos are always at the top of my list.
The plant-based life means looking for new and interesting ways to get veggies on my plate. This egg roll recipe came to me during a time when I was looking for new ideas. Thankfully, the wrappers are pre-made so all I really had to do was decide what I wanted to put in them.
I still live in a neighborhood where the Chinese restaurant is the place to be on any night. There are a dozen cushy red booths and large tables to support the steady flow of customers. There's a full bar and televisions on both sides of the restaurant to satisfy the sports fans and the casual glancers. We have not been out for dinner in a while which is why making homemade egg rolls sounded like a good idea.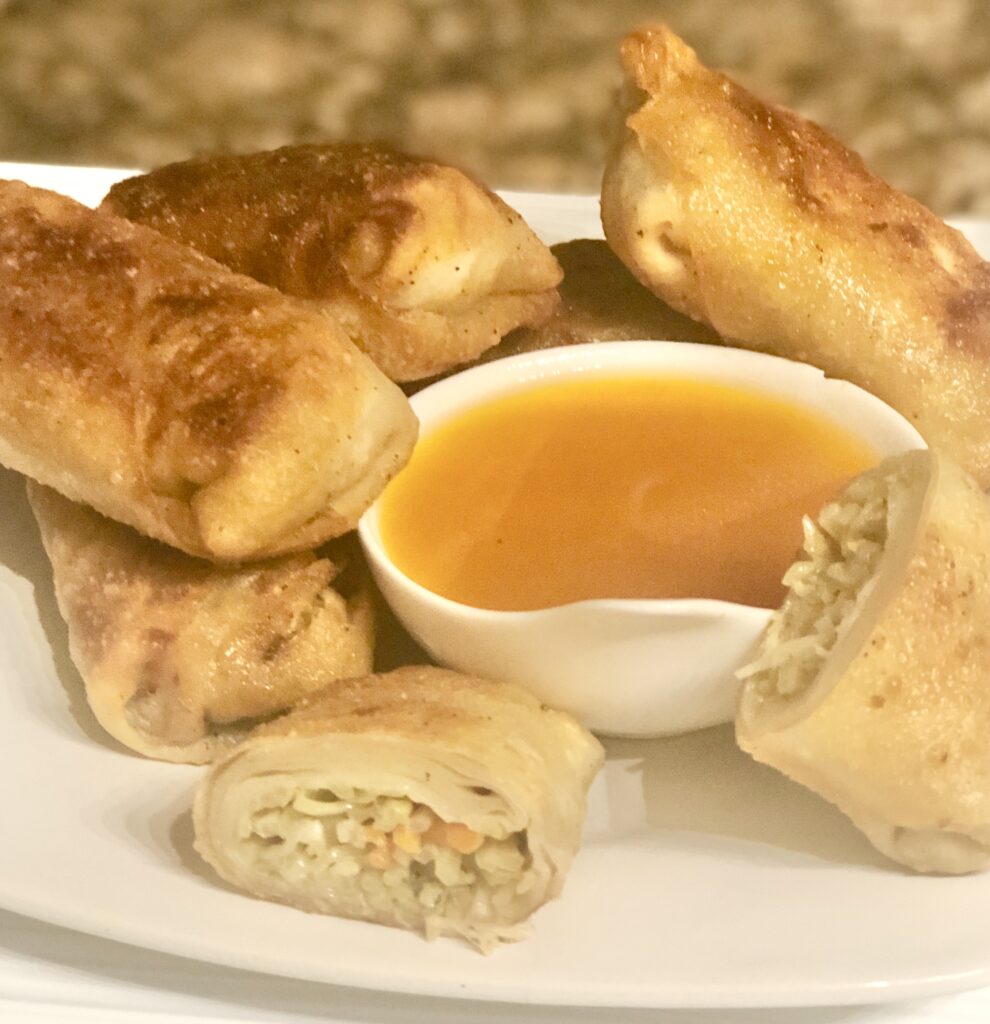 The Egg Roll and the Kid
The egg roll also gave me the perfect opportunity to cook with my daughter. As she gets older, I want her to feel confident about being in the kitchen and I want her to enjoy being a co-designer of her food choices. We are past the days of pushing food on her plate and forcing her to comply. That was exhausting so the more we cook together, the more she takes control of what's on her plate.
What's on the Inside of an Egg Roll
This veggie egg roll recipe calls for ready made coleslaw or broccoli slaw mix because I didn't want to make my own coleslaw. It's also just veggie. Feel free to add your favorite protein and mix up the veggies in a way that makes sense for you and/or your family. As you will see in the video, the egg rolls were easy to make. With a few simple steps, we were able to wrap, roll and cook. If you are avoiding oil, you can also bake your rolls at 450 for 30 minutes (turn them over at around 15 minutes) in the oven but the texture may not be as crunchy.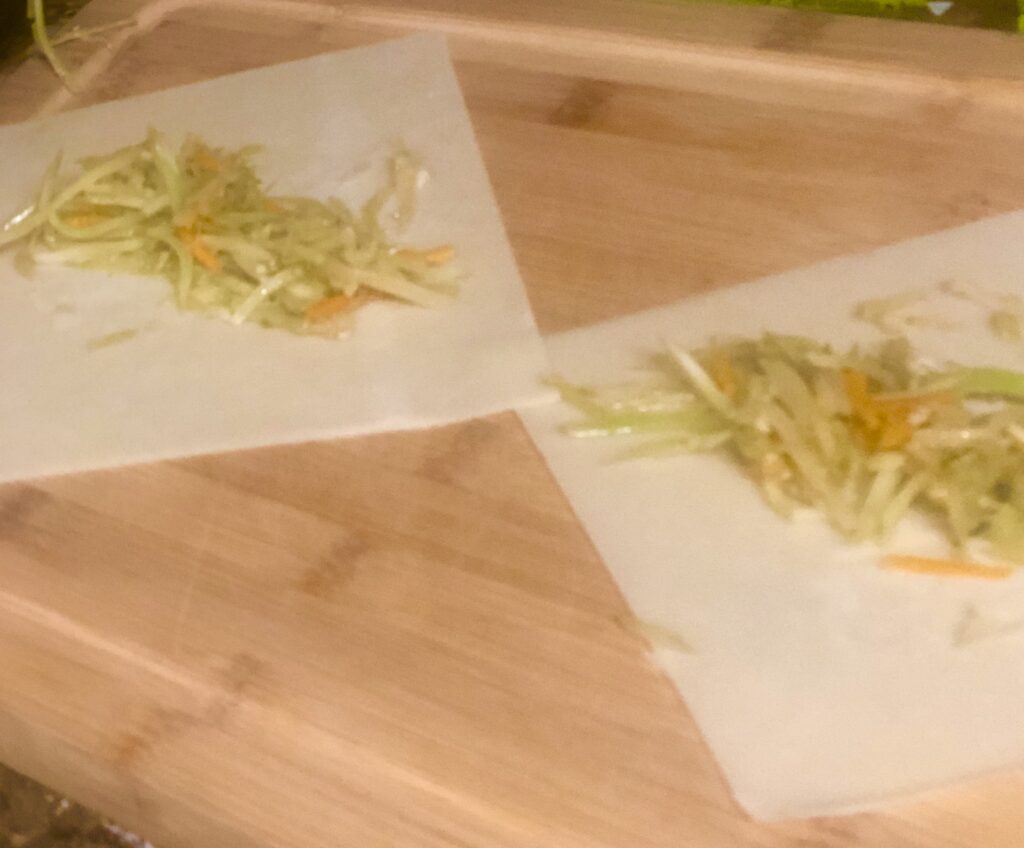 Ingredients
Package of egg roll wrappers
10-12 ounce package of ready made coleslaw or vegetable slaw
minced ginger-1 tsp
minced garlic-1 tsp
light soy sauce (or amino acids) -1 tbs
rice vinegar-1 tbs
water- 1 cup
vegetable oil for frying – 6-8 oz
Directions
Heat your skillet and then add your ready made slaw mix. Add the ginger, garlic, soy sauce, rice vinegar and water to the pan. Use low-medium heat to cook everything down. Be sure to look for softened veggies but not mushy.
Lay out your egg roll wrappers. Then follow the directions on the package for filling and wrapping. Watch the video to see how we filled and wrapped ours.
Frying: Place egg rolls in hot oil and rotate until brown on all sides. Dry off on paper towels.
Baking: Set oven at 450 degrees. Set a time for 30 minutes. Place egg rolls on a cookie sheet and rotate after 15 minutes.
Add you favorite sauce and enjoy!
Watch the Video!
LA Dunn is a plant-based advocate and a huge fan of anything made with apples. If you have 15 minutes, listen to an episode of the Black Girls Eat Podcast. Sign up below for access to a copy of Plant Based: 15 Mistakes to Avoid and other updates.