Jump to recipe
Rice bowl, grain bowl, pasta bowl. You get the idea. Whenever I start planning a "bowl", I have to decide what the foundation will be. I opened the fridge today and saw a huge pot of brown rice. I knew there was a rice bowl in my future.
The Rice Bowl Supports a Plant-Based Lifestyle
I grew up with rice on the plate. It was never the star. When I first started leaning into plant-based nutrition, I only thought of salads. Yep, just the plants. I had to remember that vegetables, fruits and grains are the trio. And let's not forget the supporting cast of nuts and seeds.
Rice was discovered almost 10,000 years ago. We can thank the hunter gatherers around the Yangtze River in China for that. Today, you can find a version of a rice bowl all over the world. What's cool about a rice bowl is that it's so versatile. You are in control. Add veggies, fruits, nuts, seeds and more veggies.
White Rice vs. Brown Rice
Okay so I'm not going to fight about this. The truth is, my rice bowl tastes great with either one. If I had a nickel for every person I met that is avoiding rice. Especially white rice. Did you know that white rice is low in fat? One cup contains about 200 calories. Okay so we use 1/2 cup in this rice bowl. Do we eat a cup of rice every day? Nope?
The bottom line: At the end of the day, choosing brown or white rice does not have to be black and white. Both are nutritionally rich and can be enjoyed as part of a balanced diet. Simply consider your preferences and desired benefits, and your rice choice will never be wrong.

Good Housekeeping
White rice used to be the only rice I knew. Yeah, I now know that the bran has been removed which is what makes brown rice healthier. And yes, let's hear it for brown rice which offers less calories and carbs. Brown rice offers more protein, fiber and nutrients overall. Great. If you have access to brown rice, go for it. If you don't, make it with what you have.
Like everything else, you have to do the research for your own body. Read the labels and monitor what you must. Of course if you are using food in the war against diabetes, obesity, heart disease and inflammation, you will proceed with caution. Make a bowl that makes sense for you. Or don't! Swap out the rice for another grain. No stress required.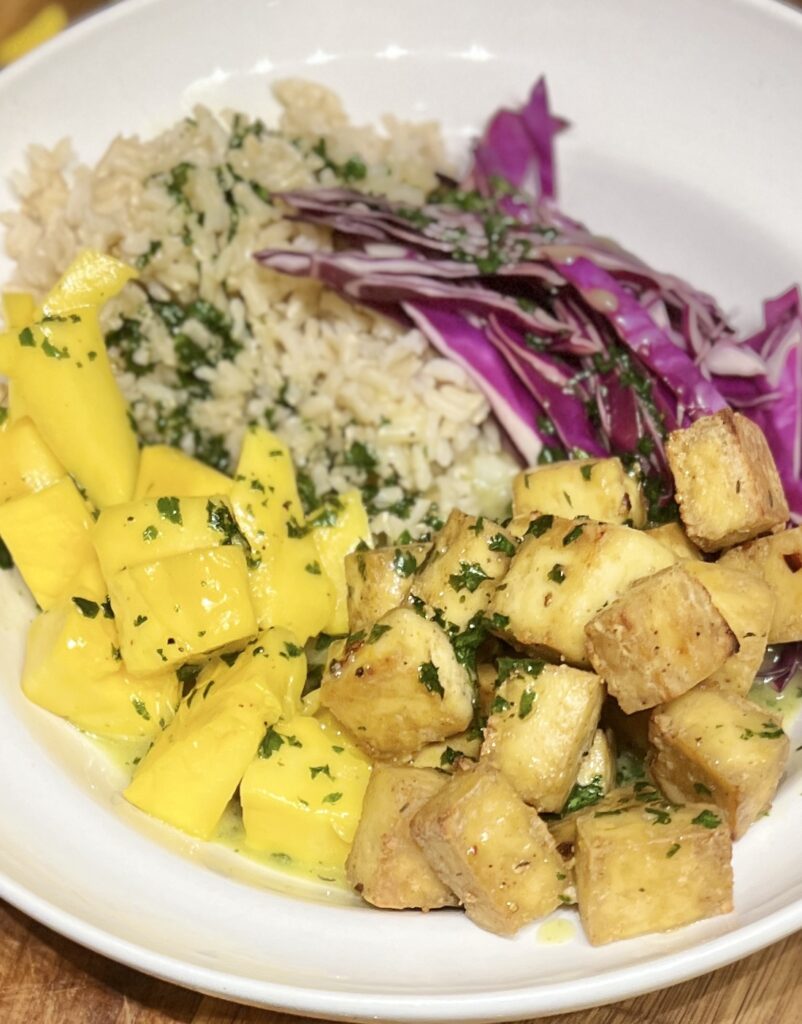 Now About That Rice Bowl
This rice bowl recipe was inspired by the Jerk Spice Rub from www.shopspicetheory.com. It was the perfect way to wake up my tofu. Check out the list of ingredients:
Scotch Bonnet Pepper
Garlic
Onions
Sea Salt
All spice
Thyme
Corriander
Ginger
Nutmeg
Cinnamon
I enjoyed making this bowl and I made it twice. The second time, I added some mixed greens to ramp up the fiber and nutrients. It also made my rice bowl look really pretty! Have fun making this bowl and let your creativity soar!
LA is a plant-based advocate from the Bronx. She is all about finding new ways to get more plants on the plate. This recipe is a great example of that. Follow her on Instagram and Tik Tok @blackgirlseat and be sure to sign up for the Recipes & Random-Ish Newsletter for more recipes and more fun.
Easy Rice Bowl: Made With Spicy Tofu and Mango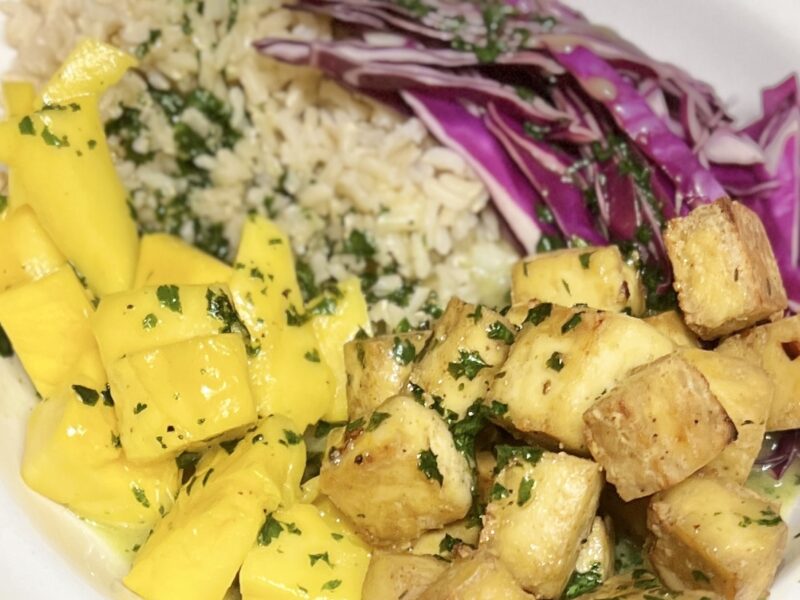 Ingredients
For the Tofu
1 Block Extra Firm Tofu
1 tbs Olive Oil
2 tbs Corn Starch
1 tsp Jerk Seasoning or similar
For the Bowl
1/2 cup rice
1/2 cup shredded red cabbage
1/2 cup ripe mango cubes (fresh or frozen)
For the Dressing
1/4 cup chopped cilantro
1 tsp minced garlic
1/4 cup lime juice
1/2 cup extra virgin olive oil
2 tbs honey or agave
salt and pepper to taste
Instructions
Set the oven to 375. Prepare a cookie sheet and set aside. Prepare your rice according to package. Prepare the tofu by removing it from the package, draining the water and drying it out. You can use paper towels or new cloths to get the water out. While you are waiting, slice your mangoes and cabbage.
Cut the tofu into cubes and add to a bowl. Add olive oil and corn starch. Add jerk seasoning or add your own blend of spices. Toss until tofu is well coated. Lay tofu out on cookie sheet and bake for 15 minutes on one side and then turn it over for another 10 minutes.
Place rice in a bowl and layer it with tofu, mango and cabbage. Drizzle your dressing and enjoy warm or cool.