Jump to recipe
Do people say bow tie pasta because it's easier to say than farfalle pasta? I love that farfalle means butterfly in Italian. This is one of my favorite pastas to use when making a salad. It's just so pretty!
I was inspired to create this dish while attending a birthday party. One of the guests arrived with a huge bowl of bow tie pasta. I loved how the mushrooms and spinach danced in between the bow ties. She even brought a side of parmesan cheese with her. That's a real guest. She made sure that we could have the full flavorful experience.
Her pasta was amazing. After two servings, I had to pull away from the table. I knew that I would come home and make a bow tie pasta salad. No one could tell but, I was going over all of the ingredients in my head. Yes, I was doing this even as the group was singing happy birthday!
You Will Never Guess the Secret to the Bow Tie Pasta Salad
After we all told her a dozen times that we loved her bow tie pasta dish, she finally gave us her secret. You won't believe it. I couldn't believe it. She said her secret was lime juice. Whoa! I would have never guessed. That citrus just brought everything together and made for one memorable side dish.
What I really love is that bow tie pasta is firm. It holds up well to the spinach and mushrooms. My version also includes red pepper flakes and a little shredded mozzarella cheese. I am looking forward to the next time I make this. I'm already dreaming about adding some sun dried tomatoes.
This bow tie pasta salad was hearty enough to eat alone for dinner. A few slices of toasted baguette with a drizzle of olive oil and I was happy. I hope you try it for yourself and make a little of your own happiness.
Bow Tie Pasta with Spinach and Mushrooms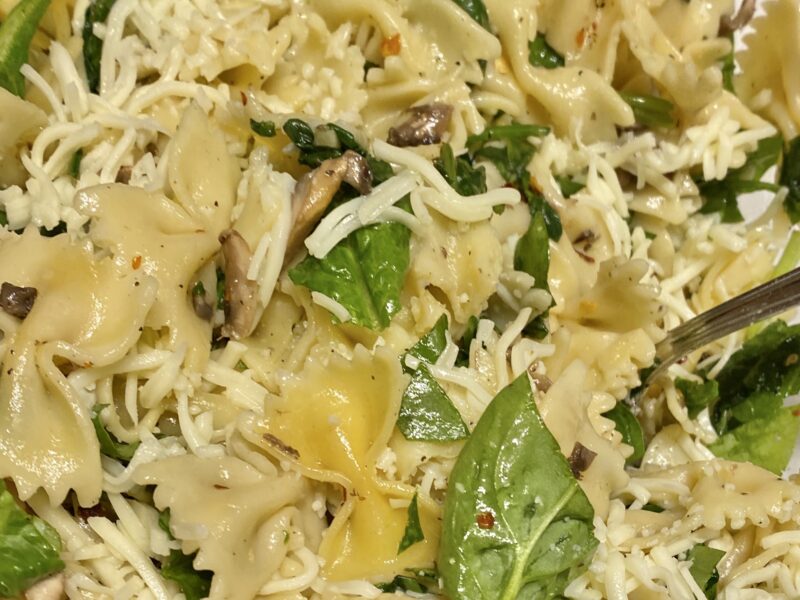 Ingredients
1 box or 16 oz of Farfalle (Bow Tie Pasta)
2 cups cooked and sliced mushrooms
1 cup chopped spinach
1/2 cup mozzarella cheese
1/4 cup olive oil
1 tbs lime juice
1 tbs red pepper flakes
1/2 tsp salt
1/4 cup water
Instructions
Cook your pasta according to directions
Prepare your mushrooms by wiping them off with a damp cloth. Remove stems and slice.
Add water to a fry pan or skillet and sauteé your mushrooms until done
In a large bowl, add cooked pasta, mushrooms, chopped spinach, cheese, salt, pepper, lime juice and olive oil.
Toss well. Add red pepper flakes and toss again. Serve at room temperature.
LA Dunn is a plant-based advocate who wants more people to add more plants to her plate. She is also currently binge watching season one of Ted Lasso and cannot believe how funny it is. To stay connected, sign up below. If you have some time, check out the merchandise at the Black Girls Eat Online Shop or sign up for Introduction to Plant Based Nutrition. The 5 Day email class that can take you from plant-curious to plant focused.