Organic cocktails is a thing right? Yes, you can absolutely find yourself some tasty cocktails made with organic fruits and veggies. I truly love "girls night out" and since getting leaning into plant-based nutrition, I am looking for healthier options everywhere. Even at the bar! lol.
So what's the deal with organic cocktails? Well, some say it's a gimmick. Some say it's hype. I say thank you to the bartenders. According to the Environmental Working Group, the following produce is on their dirty list:
Strawberries
Peaches
Blueberries
Pears
It seems that many of the fruits and veggies on their dirty list are grown with lots of pesticides that may not be so great for your body. Four great reasons to take a look at organic produce. I mean do you really want dirty strawberries in your margarita?
How to Tell If Produce is Organic
You may have heard the terms organic and conventional. But did you know there was a quick way to tell the difference in the supermarket? Besides looking for the label that says organic, check out the numbers. Organic produce usually has a five digit code beginning with a 9. If the product has been genetically modified (GMO), the code will begin with an 8.
So What's Up with Organic Cocktails Tho?
I saw a website for a bar that features organic cocktails and got curious. My quest led me down a winding, wobbly road into the Chinatown section of New York City. With one of my best girlfriends next to me, our Uber driver laughed at us as we nervously entered a brown door with the number 9 on it. The semi-speakeasy vibe gave me goosebumps as we entered Apothéke Chinatown.
A Truly Organic Cocktail
I felt like we might have needed a password to get in but we were ready for the adventure.  Once we stepped inside, all of New York City melted away. We sat on a comfy sofa and bobbed our heads to what sounded like a smooth cuban/hip-hop remix of an old Lauren Hill song. The vibe was organic too.
The mixologists behind the bar wore lab coats and moved liked skilled surgeons around their organic produce. After reviewing the insanely deep menu, we both decided to order the Sitting Buddha. It boasted a blend of vodka, lemongrass, ginger and cilantro. It arrived looking cold and vibrant. One sip and it was obvious. It was all so very fresh and refreshing. You could taste each ingredient and it all danced together so nicely. After two servings, we really became sitting buddhas!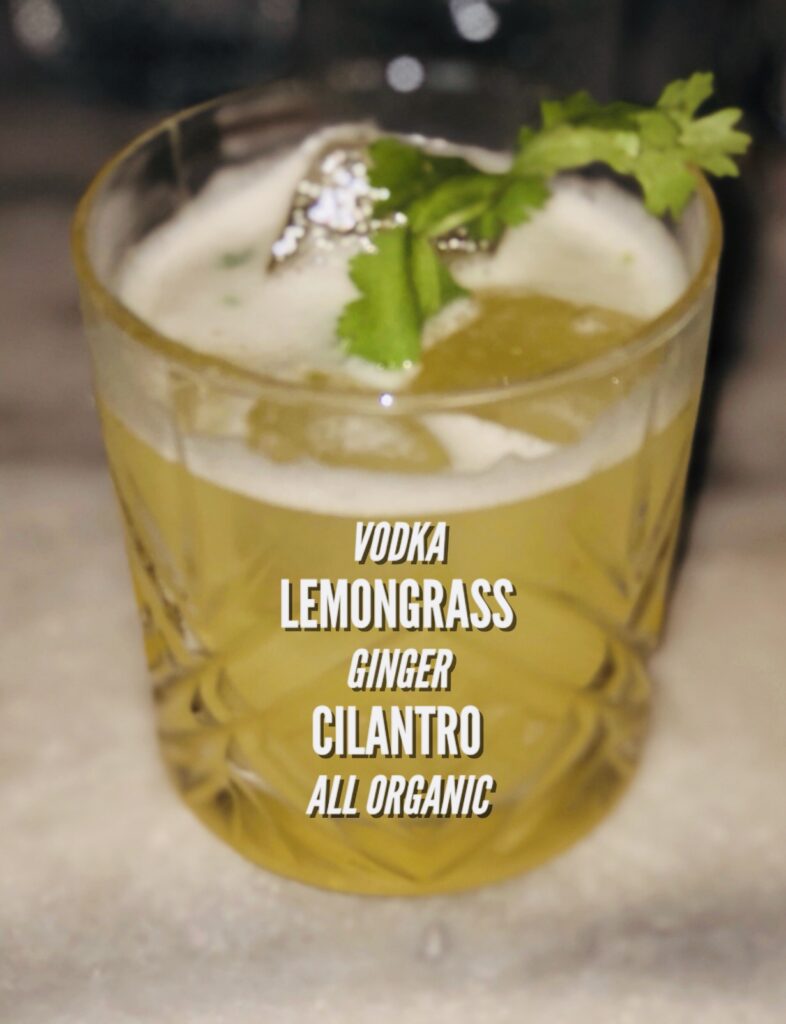 APOTHEKE'S INGREDIENTS ARE HOUSE-MADE DAILY USING ORGANIC PRODUCE, HERBS, & BOTANICALS
From the Apothéke Website
The website has been updated but this is what it used to say…
At Apothéke, the presentation of a cocktail is just as dramatic as the cocktail itself. The bar is no longer a bar. It's a stage. A chemistry lab. A theatre. A unique-shaped Austrian crystal glass is carefully selected for each cocktail, and into it, is poured a beautiful, jewel-colored liquid. This is much more than a cocktail bar – this is a cocktail apothecary. All of our cocktails are prepared with local and organic produce from local greenmarkets or picked straight from our rooftop herb garden.
Apothéke Locations: Chinatown, NoMad, Los Angeles
LA Dunn is a plant-based advocate who is always on the look out for fun and new ways to put more plants on your plate. Her quest also brings her to all kinds of interesting places around the world. Apothéke is a great example of that. Here are some ways to connect with LA: