Jump to recipe
Black bean soup was on my mind as soon as the temperature dipped below 32. I raced to the grocery store and I couldn't believe my eyes. You can imagine my shock and surprise when I saw that one can cost $5.69. I'm not kidding. Okay it was an organic black bean soup but organic is usually a few cents more. I could not understand why a 15 ounce can of soup cost almost $6.
Grocery Prices Have Gone Insane
Due to supply chain limitations, labor shortages, military conflict and a variety of other reasons, the cost of groceries is just insane. According to a report released by the Bureau of Labor Statistics, groceries have gone up 11.4% over the past year. Eggs are almost double the cost of what they were last year. Flour, milk and bread have all increased at 23.3%, 17% and 16.2% respectively. Luckily, I found an eight pack of black beans for around $10 or $1.37 a can.
That's what got me really thinking about soup. More specifically, black bean soup. I also have been paying attention to my salt and sodium intake for the past few years. While soup is convenient, it's often loaded with salt. That's why I started making my own soups. I found it to be easy and I am never mad at saving money.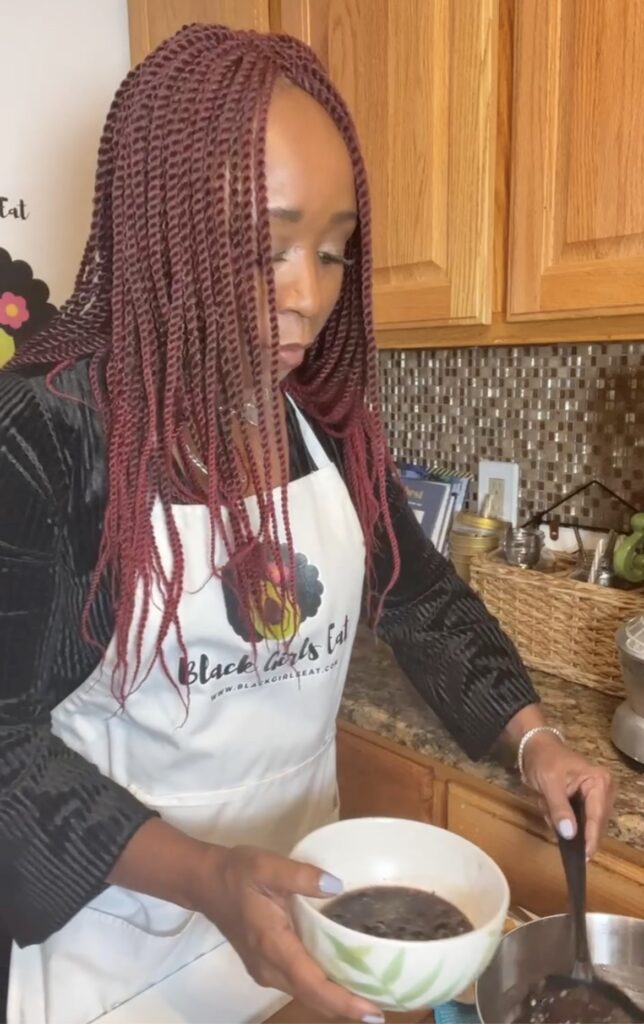 Black Bean Soup for Dinner
When it's cold outside and I don't feel like cooking, black bean soup is my go to. Black beans are a great source of fiber and provide a good amount of plant-based protein. If I have some spinach or collard greens, I'll add them to my bowl as well. One of my favorite things to do is to make fresh tortilla chips to add on top for the perfect final crunch. You can also ramp up the fiber and crunch factor by adding roasted chickpeas to your bowl of soup. Enjoy and let me know if you make this black bean soup recipe.
LA is a plant-based advocate from the Bronx who is all about getting from plant-curious to plant-focused. Follow on IG @blackgirlseat and don't forget to sign up below to stay connected. Oh yeah! Don't forget to check out the latest from Recipes & Random Ish.
Simple Black Bean Soup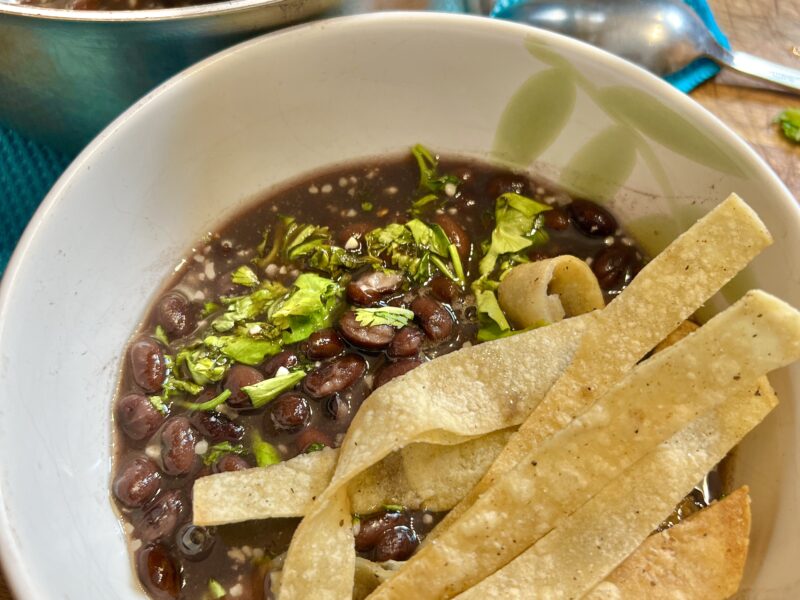 Ingredients
1 15oz can black Beans
1 cup vegetable broth
1 tbs minced garlic
1/2 tsp cumin
Chopped Cilantro (garnish)
Salt & Pepper (Optional)
Instructions
Bring beans, broth, garlic and cumin to a boil in a medium saucepan. Stir often.
Serve with cilantro and top with tortilla strips/chips if you have them.