Jump to recipe
Flatbread pizza has been around for centuries. But it's only been in my house for the past five years. Why? well, the answer is simple. I'm a Bronx girl and for me, pizza always starts out as a circle and then it becomes a triangle. Are you wondering if I had ever eaten flatbread pizza in a restaurant? Of course I had. The difference is that I'd never made one at home.
That all changed the day I found ready made flatbread pizza dough in the supermarket. It does not take much to inspire me. Within minutes, I was thinking of all of the combinations of pizza I would make for the family. My first thought was savory. I get excited about mushrooms. Then I thought sweet. Caramelized figs and pears was the first sweet pizza I'd ever made.
Flatbread Pizza for Breakfast, Dinner or Lunch
One of the cool things about leaning into plant-based nutrition is that you get to remix your plate. Who says you have to start your day with a bowl of cereal? How about flatbread pizza with tomato and caramelized onions? We love the tomatoes for their deep red color which means that it's giving us a powerful punch of anti-oxidants. Anti-oxidants are cancer fighting friends and we can find lots of them in richly colored foods like tomatoes, oranges and eggplant.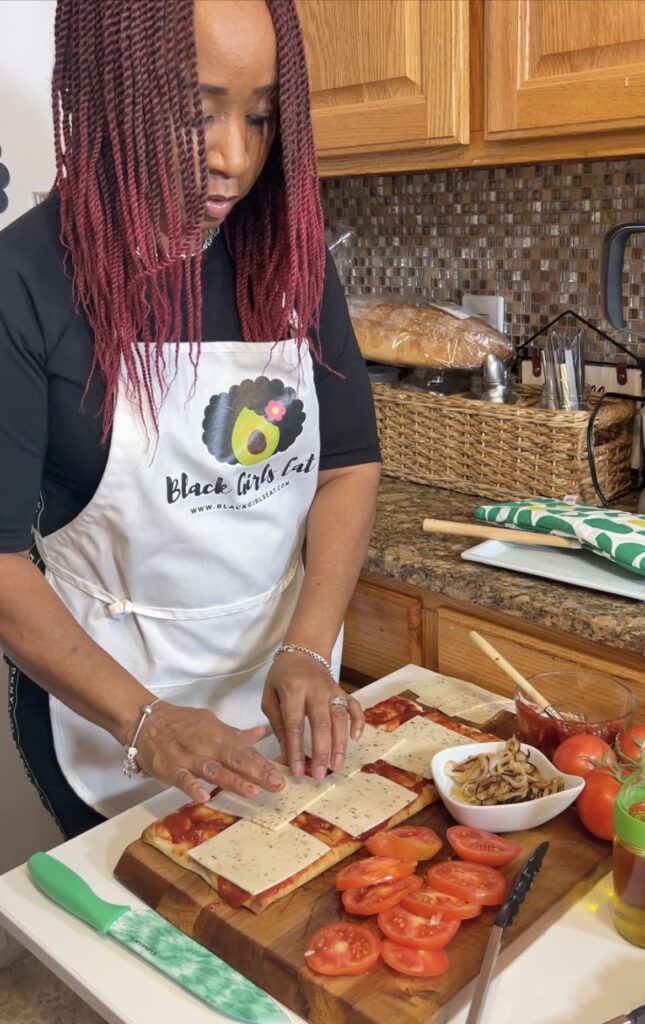 This recipe is an easy one. I used store-bought flatbread pizza dough and really simple ingredients. I love onions. You practically have to beg me not to put them into every dish. I love how they break down slowly on a low flame and become caramelized and sweeter.
And in case you didn't know it, onions are packed with anti-oxidants too. They also are a good source of vitamin c, potassium and manganese. Have fun with this flatbread pizza recipe and then make it your own. I decided to use vegan pepper jack cheeze and was not disappointed. My pizza had a nice little kick wrapped around the sweetness of the onions and tomatoes. There are almost no wrong answers here!
Where to Shop
LA is a plant-based advocate from the Bronx and will be eating pizza for the rest of her life! Shop with her on Amazon. Stay connected by signing up below and don't forget to check out the newsletter, Recipes & Random-ish for more food and fun.
Flatbread Pizza Made with Tomato and Onions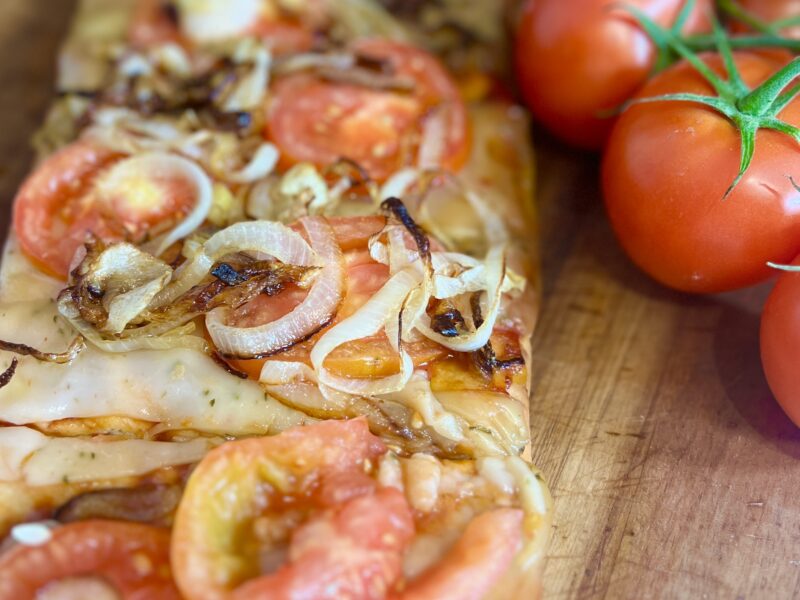 Ingredients
1 ready made flatbread pizza dough
1 onion
1 tomato
1/2 cup of pizza sauce
3 tbs cooking oil
4-5 slices of cheeze or cheese (Your Choice)
Instructions
Pre-heat your oven and prepare your flatbread pizza dough according to package directions.
Slice your onions and tomatoes thinly.
Add oil to your frypan/skillet on low to medium. Add your onions and let them cook down. Once they become clear/transparent they are good to go. If you prefer, cook them longer to bring out the sweetness.
Brush your pizza sauce onto your pizza dough and add the onions, tomatoes and cheese.
Bake according to directions.
Enjoy!