Jump to recipe
Cauliflower "mac" and cheese is a bit of a mind twist. As a plant-based advocate, I know that cauliflower is one of the good veggies. One cup is only about 25 calories and is fat and cholesterol free. You can get almost 100% of the daily recommended amount of Vitamin C from just one serving. And did I mention that it's a good source of fiber? Also really great in terms of helping us feel satisfied.
If you are looking for cancer fighting antioxidants, you can find them in cauliflower. It's also high in choline. We need choline to fight liver and heart disease as well as dementia and Alzheimer's. But what does all of this have to do with cauliflower "mac" and cheese? Well, I felt guilty just diving into the recipe. As you can imagine, pouring the "cheese" all over the healthy cauliflower changes things dramatically.
Cauliflower "Mac" and Cheese is Comforting
I am not going to lie to you. When the temperatures drop, this plant-based lover craves the warm and cheesy foods just like everyone else. Thus the need for cauliflower "mac" and cheese. Winter months in my house have us calling the pizza delivery team more often than I'd care to admit. So it did not shock anyone last weekend when I announced that I would be would be making something cheesy.
When I started leaning into plant-based nutrition, I was excited about all of the different ways I could prepare vegetables, fruits and grains. But this recipe was not on my radar. What did it for me was a grilled cauliflower "mac" and cheese sandwich that I had on a visit to Indianpolis. I have not been eating a lot of cheese in the past couple of years but OMG….that sandwich was unforgettable. Shout out to the staff at The Garden Table for such great dishes.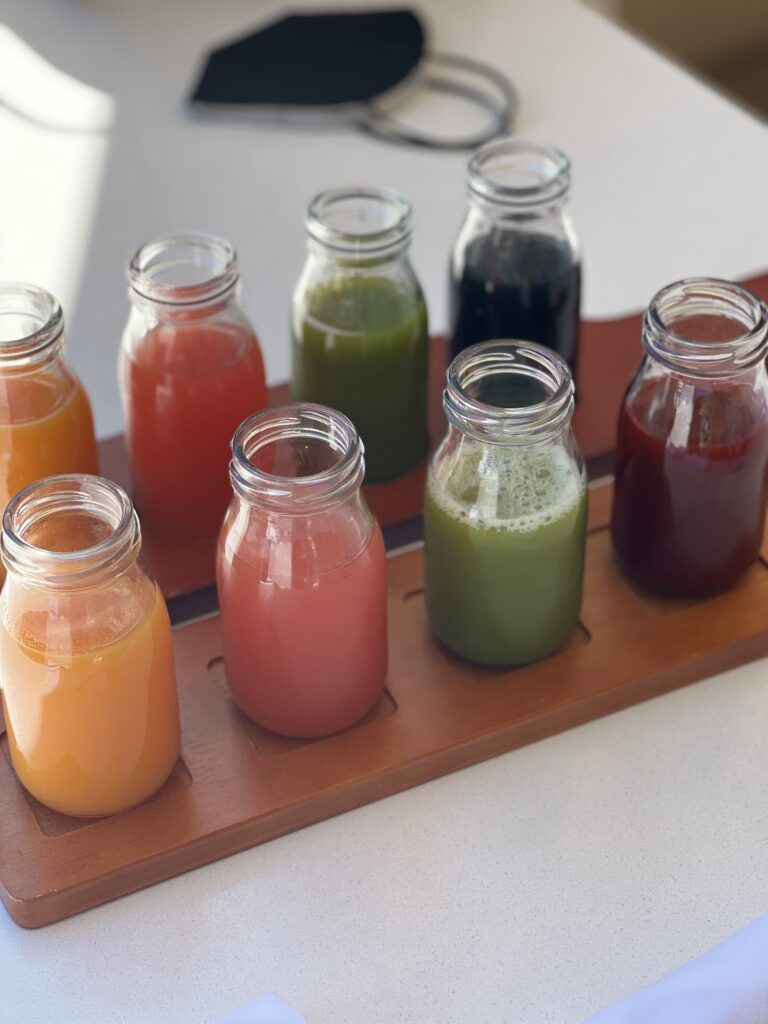 Okay So It's Not Really "MAC"
I know, the recipe says cauliflower "mac" and cheese. The mac refers to the macaroni noodles that are usually in the dish. But nope. The pasta has been replaced by the cauliflower. This vegetable is full of surprises. It starts out rock hard but after you roast it, you can bite right into it as you would with a bowl of pasta.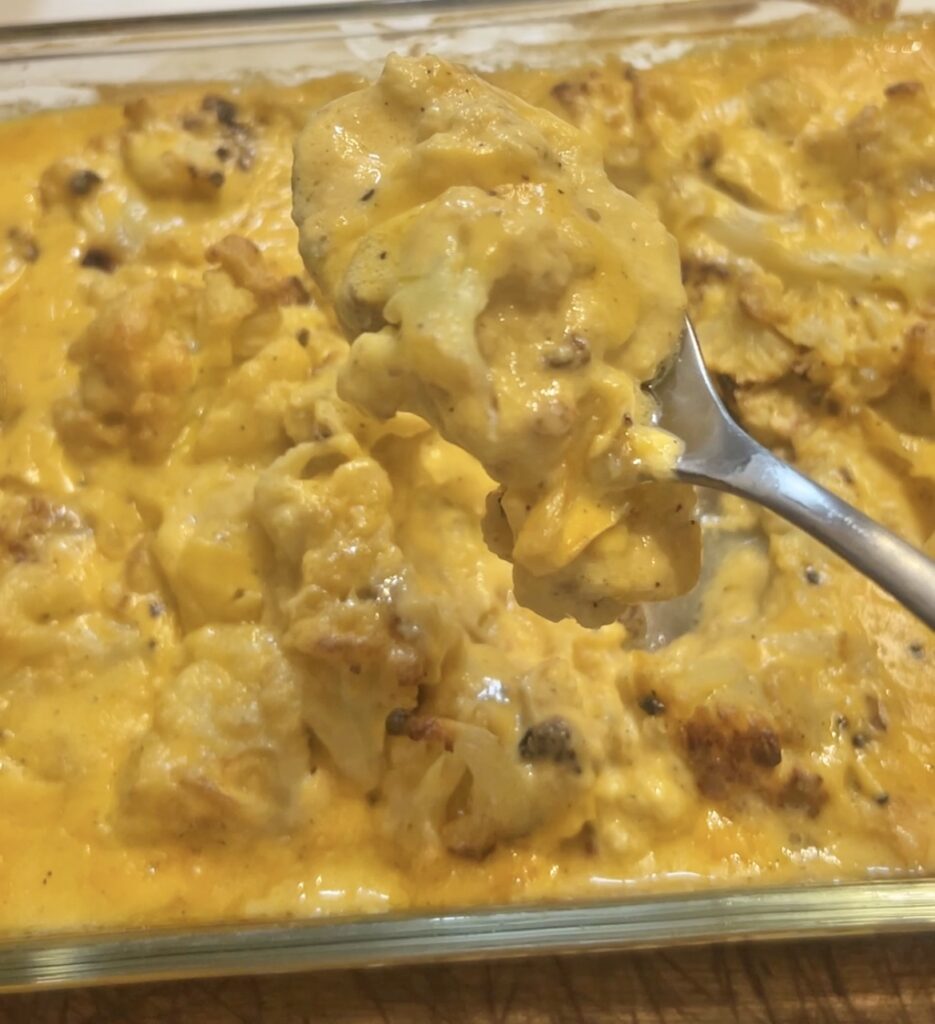 This recipe is not remotely vegan friendly. I made the first batch for the family with traditional cheese and made a second batch for me using a vegan cheese. The second batch was not great because the cheese didn't melt the way I thought it should. I will try it again and happily post my own vegan cauliflower "mac" and cheese recipe soon.
In the meantime, if you aren't facing any dietary restrictions, try this recipe. Even though it didn't work out for me, I still included vegan options for you to swap out. Enjoy this yummy and comforting cauliflower "mac" and cheese dish. Hang in there my friends! Spring is just around the corner.
LA is a plant-based advocate who is navigating life one plate a time. Find her on IG and Tik Tok . Don't forget to read the latest issue of Recipes and Random-Ish and subscribe to stay connected.
Cauliflower "Mac" and Cheese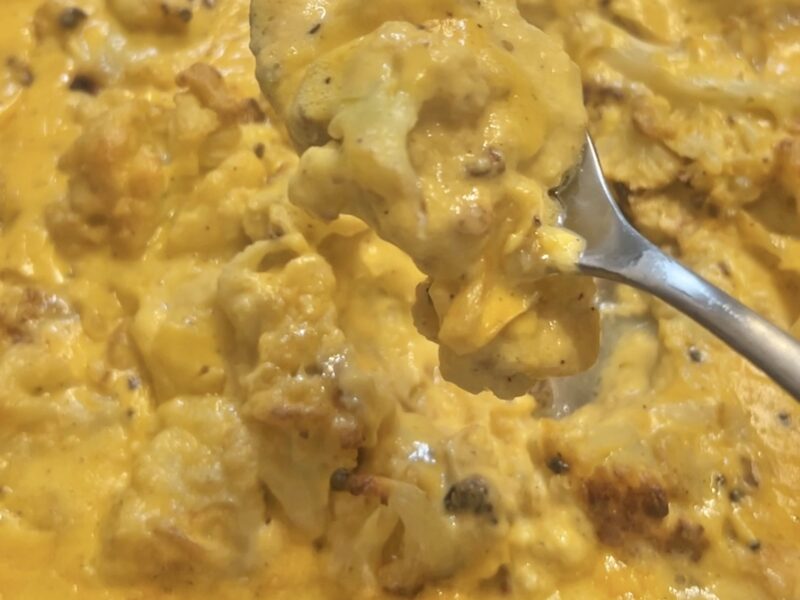 Ingredients
1 Whole Cauliflower (broken into bite sized florets)
2 Cups shredded cheese or cheeze (plant-based)
2 Tbs Butter (traditional or plant-based)
3 Tbs Flour
2 Cups Milk or Mylk (plant-based)
1.5 tsp salt
1/2 tsp black pepper or red pepper flakes
1/2 tsp garlic powder
1/2 tsp onion powder
Instructions
Set your oven to 375 degrees. Prepare a cookie sheet with foil or parchment paper. Lay your cauliflower florets out and add pepper, garlic powder and onion powder. Make sure all of the pieces are coated. Bake for 15- 20 minutes or until tender. Don't let it burn!
Make the Cheese Sauce: Use a large saucepan and melt the butter. When it is melted add the flour and stir until blended. Use a whisk or fork and slowly add in the milk. Add in shredded cheese and continue to stir until smooth and creamy.
Remove your cauliflower from the oven and pour your cheese sauce all over it. Make sure it's all coated. Return to the oven for another 10 minutes.
Have fun with this recipe. Before you return the dish to the oven, you can add breadcrumbs for a crunchy topping. Want color and flavor? Add a little basil. Looking to mix it up? Try a blend of cheeses or add one like pepper jack to kick up the spices.